A welcome addition
Geranium Home's Copperstone neighbourhood is playing an integral role in the regeneration of a much-loved community, say locals
If you want to know what it's really like to live in a certain area, get the inside scoop. Ask a local.
"I've travelled through Europe and the U.S., and there's no place where I would rather live," says Rick Wigmore, longtime resident of Musselman's Lake, a picturesque community in the town of Whitchurch-Stouffville, less than an hour's drive north of downtown Toronto.
This will be the second community by land developer Geranium Corporation and its housing division Geranium Homes in the growing hamlet of Ballantrae. During the past three years, the company has developed a relationship with residents and local officials which will benefit both current families and future homeowners of Copperstone.
Rick and Linda Wigmore have witnessed first-hand the transformation of Musselman's Lake over the past 65 years. The Wigmore family cottage on the lake was built in the 1920s. In the summer of 1929 Cedar Beach Pavilion opened, and quickly became the Saturday night dance destination for Toronto residents. Big bands flew in from all over North America, and the dances were broadcast live. Today, the granddaughter of the original owner runs a popular 600-acre park, which includes a prime stretch of beach and the pavilion.
"The biggest change has been from cottagers to full-time residents," notes Rick. "First, the cottages were winterized. Now they're coming down and new, modern, spacious year-round homes are being built in their place."
The Wigmores have lived in the area for more than 13 years, in a renovated home that used to be a barn. Constructed in the early 1800s, it was the first building by the lake. Rick has been president of the Musselman's Lake Residents Association since 2009 and he appreciates Geranium's involvement in local issues. "As part of the new Copperstone development, they have agreed to fund an in-depth study of the water quality and weed control of Musselman's Lake," he says. "We're very grateful to them for that."
So is Phil Bannon, a Ballantrae resident since 2002. A retired staff sergeant with the City of Toronto, Bannon has been Councillor of Ward 2 in Whitchurch-Stouffville for 10 years. He loves the countryside setting and considers his community one of the safest places to live. He has played an important role in promoting local festivals and cultural events, along with four-season leisure services and programs. "Geranium has been a tremendous corporate partner in support of all our community events," says Bannon.
An area business owner, Mary Skey, sees Copperstone as a welcome addition to the community, as well as to her operation. Skey runs York Equestrian Riding School, which offers year-round programs on 25 picturesque acres. Over the 10 years that she has been living and working in Whitchurch-Stouffville, she has witnessed how it has grown and flourished. Geranium is helping develop the area in "a down-to-earth way," she says, "while maintaining the farming-community feel."
The location of her riding school — between Warden and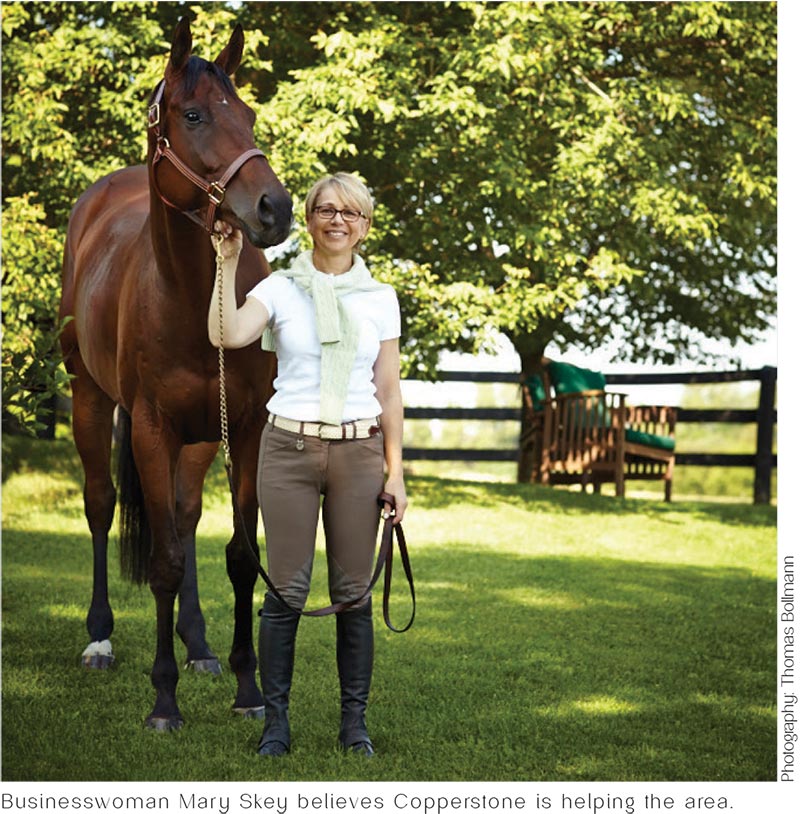 Kennedy, southwest of Ballantrae and northwest of Stouffville — is convenient for people to stop by to check it out on their way to and from work. Copperstone and an influx of new residents will likely bring in even more business.
The area is enticing to nature lovers, with Skey and Wigmore pointing out that, as part of the ecologically significant Oak Ridges Moraine, their community is protected from over development. For example, the preserved 2,200-hectare York Regional Forest offers an extensive network of nature trails for hiking, biking and horseback riding. Close at hand are golf courses, parks and community centres. "And Ballantrae is only 12 minutes from Stouffville, Aurora, Uxbridge and Mount Albert," adds Councillor Bannon.
"Within a 35-minute drive, you can have your cake and eat it too," says Skey. "It's the attitude of the people that contributes to the atmosphere, and that ensures quietude. You feel far removed but not far away."
COPPERSTONE, the next phase
Following on the heels of its highly successful Forest Trail Estates in Ballantrae, Copperstone will be an exclusive enclave located on Lakeshore Road and bordered by mature trees and hedgerows. These 18 manor-style homes on estate lots of approximately half an acre feature high-quality materials and superior finishes, and will be Energy Star® for New Homes rated. Prices will start from just over $1 million. Register at geraniumhomes.com