We are proud members of the following industry associations and many of our team volunteer on committees or participate at the Board level:
The Building Industry and Land Development Association (BILD) is the voice of the home building, land development and professional renovation industry in the Greater Toronto Area. Our industry designs, sells and builds quality complete communities where people live, work, play and shop. We are city builders.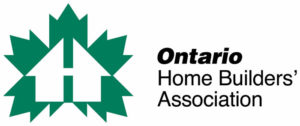 The Ontario Home Builders' Association was formed in 1962 with 10 locals to give residential builders a voice in the provincial government, facilitate changes in the industry and provide networking opportunities for home-building businesses, suppliers and services. Our association represents individuals and companies in several fields across the industry, including: builders, developers, professional renovators, trade contractors, manufacturers, consultants, marketing companies and suppliers.
CHBA seeks a strong and positive role for the housing industry in Canada's economy and in the life and development of our communities. In addressing this goal, we support the business success of our members. We work to ensure Canadians have access to homes that meet their needs at a price they can afford to pay, and that the interests of homebuyers and homeowners are understood by governments. And we provide information to Canadians to help them become more informed and confident when they buy a new home, or hire a renovator to improve their existing one.
For 40 years, Tarion has provided new home warranty protection to more than two million Ontario homes.  We serve new home buyers and new home owners by ensuring that one of their life's biggest investments is protected.  Almost every new home in the province is covered by a new home warranty.  This warranty protection is provided by Ontario's builders and lasts up to seven years.  It is backstopped by Tarion.  More than 365,000 homes are currently enrolled in the warranty program.  Every year about 50,000 new homes are enrolled.
Tarion serves Ontario's public interest by enhancing fairness and building confidence in the new home buying experience.
RESCON represents the amalgamation of three distinct bodies ( Toronto Residential Construction Labour Bureau, Metropolitan Toronto Apartment Builders Association, and the Durham Residential Construction Labour Bureau) under one brand.
In addition, RESCON acts as the coordinating agency for the Ontario Residential Contractors Construction Association (ORCCA) which brings all of the major employer bargaining agencies in the residential construction sector under one umbrella in matters related to collective bargaining and labour relations; health and safety; WSIB; training and education.