This weekend, downtown style arrives in Stouffville!
Award-winning home builder Geranium Homes is releasing a great new ownership opportunity in Stouffville this weekend.
Uptownes at The Neighbourhoods of Cardinal Point offers three-storey condominium urban-style townhomes which include spacious private rooftop terraces at prices starting from the $390s.
Located within Geranium's master-planned ravine community, Uptownes has the advantage of an established neighbourhood close to parks, schools, shops and within a short walk of GO transit and Main Street's many conveniences. Downtown style without the downtown price, this is an opportunity not to be missed!
"Drawing inspiration from Toronto`s loft conversions, Uptownes' architecture is quite evocative of an urban textile building," says Boaz Feiner, President of the housing division of Geranium Corporation.
Incorporating brick with a solid base of stone on the exterior, Uptownes will have streetscapes that are modern yet also reflective of an era highlighted by machine and industry. Window details add to the loft-like structure housed within.
In an enclave neighbourhood of 134 condo towns configured as the Chicago Series of back-to-back and The Gooderham Series of stacked units, Uptownes designs have all the living areas that buyers most value in a home.
Homes start at 1,398 up to 1,587 square feet and include a ground floor bonus recreation room that can be a home office, an exercise or games room plus a laundry room. On the second level the open concept Great Room and kitchen provide numerous furnishing opportunities.
A convenient powder room is provided on this floor where main living areas have abundant light from oversized windows and 10-foot ceiling heights.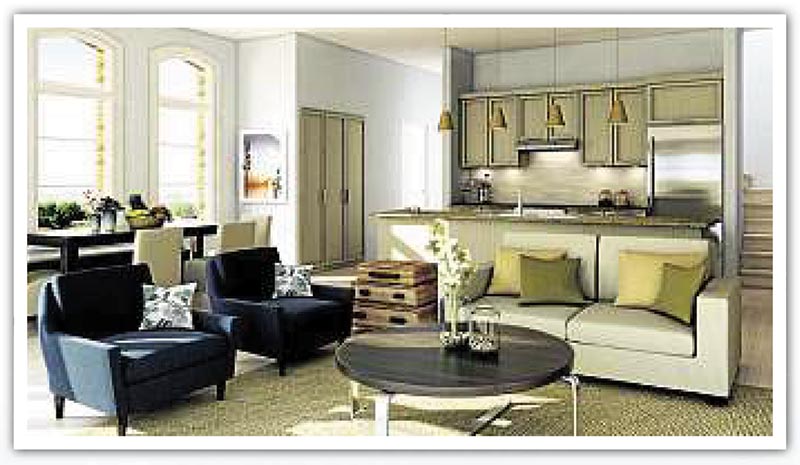 Two generously-sized bedrooms are situated on the third floor along with the buyer's choice of either two standard bathrooms or one luxury bathroom.
Every home has a large rooftop terrace which range in size from approximately 279 square feet up to 380 square feet. Each terrace comes with a natural gas barbecue outlet and privacy screen to create an outdoor oasis accessed from the top floor. Homes include a single car garage.
Luxurious interior finishes have been selected for their modern appearance and long-lasting characteristics and include Torlys laminate flooring, ceramic tile in kitchens, laundry and bathrooms,
and broadloom in bedrooms; granite kitchen countertops and elegant cabinetry. In addition homes come with five appliances and complete central air-conditioning.
The Neighbourhoods of Cardinal Point is already home to over 700 families. From any front door, residents can stroll through
neighbourhood streets to reach the linear trails in the beautiful preserved natural ravine. Existing parks have open green space, water play features and play structures for children.
Uptownes offers the ideal blend of low-maintenance condo ownership with all the conveniences of a vibrant community. Maintenance fees are low at approximately $90 per month.
Stouffville is home to exciting cultural festivals, entertainment venues, dining establishments and extensive recreation and leisure programs. Commuters will find access to GO Transit and Highways 404 and 407 make it easy to get into and around the City.
The Uptownes Cardinal Point Sales Centre is on Millard Street, east off Highway 48 and north of Stouffville Road. Hours are Monday to Thursday from 1 p.m. to 7 p.m.; Friday closed; Saturday and Sunday from 11 a.m. to 6 p.m. Please call 905-640-9999 or visit GeraniumHomes.com.
—Courtesy of Geranium
Homes