GERANIUM
DONATES RED MITTENS
TO SHELTERS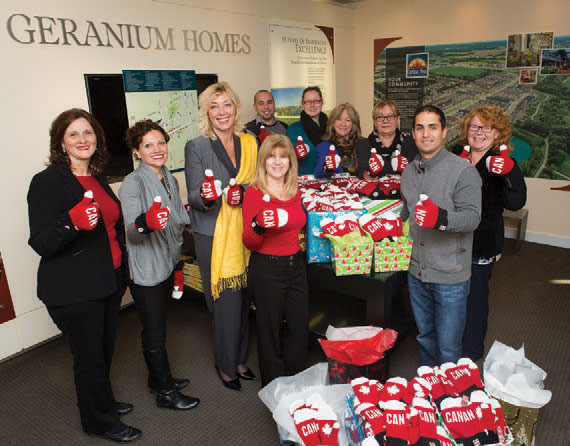 From left, Tina Kargovski and Mel Aruta, PACE Credit Union; Lorris Herenda, Yellow Brick House; Lina Benincasa, PACE; Boaz Feiner, Geranium Homes; Patti Bell, Blue Door Shelters; behind from Geranium Homes, Brent Purkess, Farrah Ward, Sue Webb Smith, and Lucy Feherpataky.
Just in time for the cold weather, Geranium Homes and PACE Credit Union joined together in December to donate 300 pairs of the Canadian Olympic Team Red Mittens to York Region area
shelters. Recipient agencies are Blue Door Shelters, Yellow Brick House and Sandgate Women's Shelter.
Patti Bell, executive director of Blue Door Shelters, and Lorris Herenda, executive director of Yellow Brick House, received their donations at the sales centre of the Neighbourhoods of Cardinal Point, where Geranium Homes is now selling the sixth phase of this master-planned ravine community in Stouffville.
"This gift is quite unexpected and we are grateful to Geranium Homes and PACE for this practical and timely donation," said Bell.
"At Yellow Brick House, the women and children that flee violent homes, often do not have any possessions," said Herenda. "As the cold winter months approach, we turn to our community for support. This donation will be
very special to our clients as they not only provide them with warmth, but will also give them a sense of belonging to this community. That is a gift straight from one heart to another."
For Geranium Homes and PACE, the opportunity to support Canadian athletes through the purchase of the mittens and also provide these winter clothing items to York Region-area shelters, was truly a win-win.