THANKSGIVING FOOD BANK DRIVE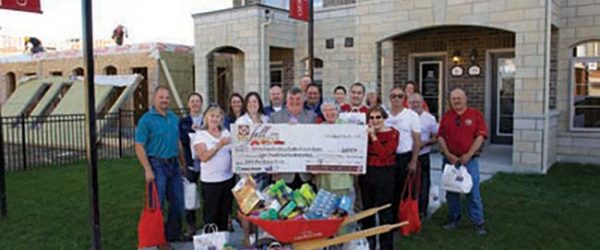 Geranium Homes presents a cheque for $8,600 to the Whitchurch-Stouffville Food Bank.
Thanks to residents of The Neighbourhoods of Cardinal Point, along with consultants, trades and staff of Geranium Homes, the Whitchurch-Stouffville Food Bank has received a major head start on its annual Thanksgiving Food Drive.
For the sixth year in a row, SCS Consulting Group helped to organize the collection of food and funds from trades and suppliers and added to the grand total, which amounted to $8,600 this year. Geranium contributed $50 per home sold at Cardinal Point in the past year.
"We are so thankful for the generosity from everyone involved in Geranium's food drive. This donation alone will last us until late spring," said executive director Marion Wells.
On September 6, Geranium held its annual Barbecue-in-the-Park event where the food drive kicked off. Throughout the month, homeowners dropped off food donations to the Cardinal Point sales centre. At the end of September, Wells and Whitchurch-Stouffville Mayor Wayne Emmerson joined the group at Cardinal Point for the final tally and cheque presentation at Uptownes, Geranium's master-planned ravine community.