buildernews | ROB BLACKSTIEN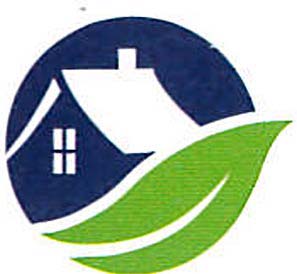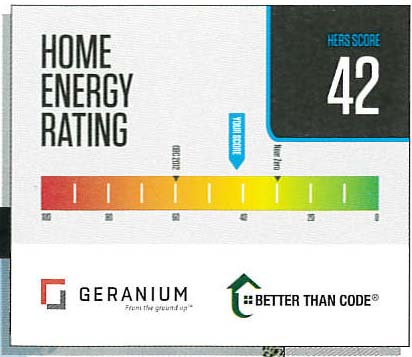 Like Heathwood, Geranium Homes turned 40 last year. And similarly, no one would accuse Geranium of slowing down as it ostensibly reaches middle age -certainly not after another award-winning showing, with a home in its Bloomington Woods subdivision in Stouffville earning a HERS 42, winning Geranium mid­production builder honours in the Cross Border Builder Challenge.
Well versed in land acquisition, planning and process, engineering, servicing, design and construction, Geranium calls itself one of the province's few fully integrated land development and building companies.
Not a one-trick pony
The 100-plus employee company has built over 8,000 homes, including many master-planned communities. But Geranium is anything but a one­trick pony, says Boaz Feiner, president of homebuilding.
"Our portfolio is very wide ranging," including mid-rise construction, estate homes, single-family units, towns and stacks. "That's why we're forced to push the envelope, because we don't do the same thing over and over again," he adds.
Vice president of construction Louie Morizio, who originally joined Geranium 30 years ago, explains its philosophy: "It's always about building something you can be proud of… that you can put your name to."
He continues: "if you have the satisfaction of the purchasers, the people that are buying our homes, they see the product that goes in, they see the effort, the outcome -you can't help but be proud of the product." Ultimately, that translates into repeat business and success over the company's lifetime.
Geranium's formula for becoming an industry leader is simple: it is always pushing the envelope through R&D and always seeking new products. "We have to hand select products we can stand behind and are comfortable with," he explains.
This approach is especially applicable in Geranium's approach to energy efficient home building: "One of our main focuses is energy consumption and how it affects the environment. We are socially conscious and we want to make sure we put in the right product so that we know the people will be happy and we can stand behind it."
Willing to try new things
Geranium will steer clear of products that "aren't going to cut the mustard," Morizio says.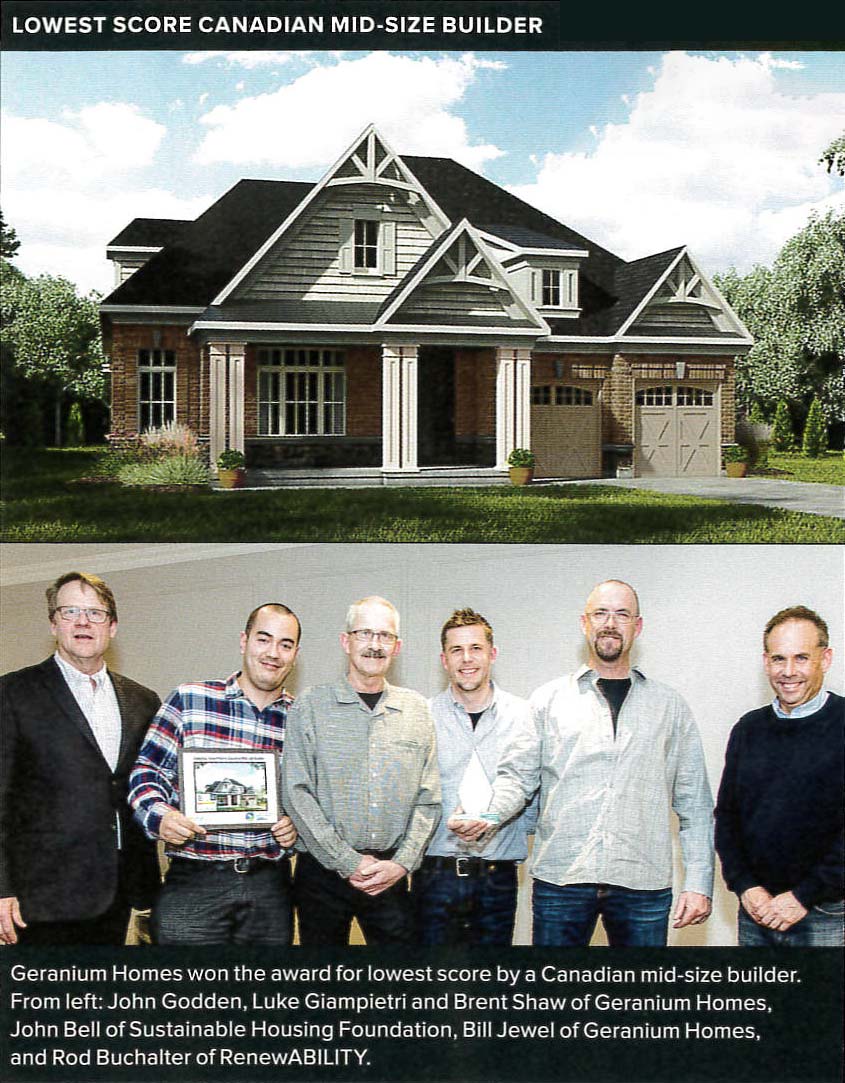 But he does believe in trying out the unproven in a quest to push the envelope.
For instance, Geranium is currently experimenting with a liquid tar material for sealing the exterior of flat roofs. Once poured into place, it becomes a rubber membrane that is puncture resistant, eliminating the common issue of having nails penetrate the roof and cause leaks. This could translate into less servicing for purchasers, a better sealed unit, less draft and more durability, he adds.
In winning the Cross Border Builder Challenge, Morizio says the company spent a lot of time perfecting its construction techniques -making sure it sealed the ductwork and units well, performed inspections to check everything, and" [did] all sorts of different
things" to perfect airflow and eliminate leaks to get these results.
"It's an indicator that we're doing something right," he says of the award. "It tells me that we are a leader in what we do. Our efforts have not gone unnot­iced, which is a great thing. Recognition is always a positive thing for people that are trying to put something like this together to build a better product." Further, it tells him that "we are ahead of the curve from the other guys."
After trying it out in Stouffville, Morizio says Geranium is now exploring sprinkler systems inside its homes as standard fare. BB
Rob Blackstien is a Toronto-based freelance writer. Pen-Ultimate.ca