GERANIUM'S NEWEST
NEIGHBOURHOODS ARE BLOOMING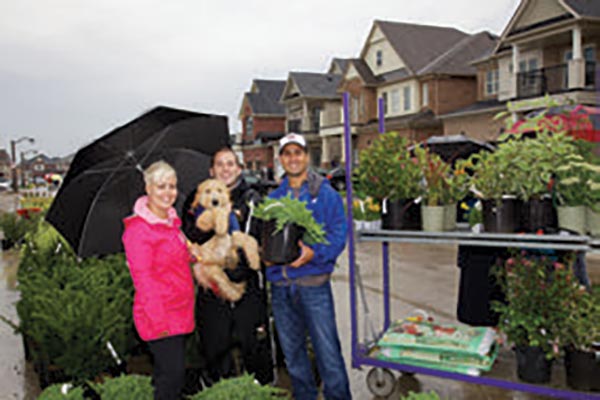 Boaz Feiner, at right, assists Cardinal Point homeowners with their plants.
Geranium Homes recently held its annual Neighbourhoods in Bloom gardening events for homeowners who have moved into its communities in the past year. Last month at Cardinal Point in Stouffville, Geranium and Terra Greenhouses provided a selection of flowering shrubs, evergreens, perennial plants and topsoil to approximately 80 families living in Phase 5, who braved the wet weather to attend this complimentary event. The following Saturday, residents of The Verandas in Port Hope received their new plants and flowers.
"There's a lot to do when you first move into a new home and often the garden doesn't top the list. These events make it so easy for our homebuyers to get started," says Boaz Feiner, president of Geranium's housing division.