RIBBON-CUTTING MARKS OFFICIAL GRAND OPENING AT
COURTS OF CANTERBURY IN PORT PERRY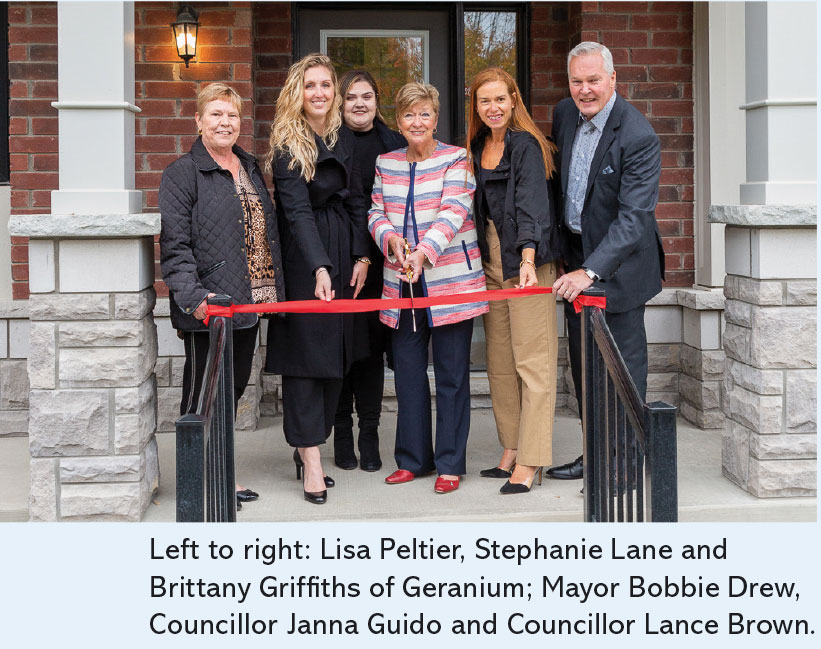 Township of Scugog Mayor Bobbie Drew, Councillor Lance Brown and Councillor Janna Guido joined Geranium's Stephanie Lane, Brittany Griffith and Lisa Peltier to cut the ribbon to officially open Geranium's new adult-lifestyle community, the Courts of Canterbury.
"We are experiencing a mini boom for development in the Township of Scugog, and council and our staff are working with planning and development for the right type of development for Scugog," says Drew. "Development that understands our community and responds to the needs. We are thankful for the work, consultation and thought that has gone into this development to plan for an ageing demographic with the addition of a seniors' apartment alongside their beautiful homes, an enhanced trail system and greenspace."
Now selling, phase one has 30 50-ft.-wide lots in a cul-de-sac, offering eight bungalow floorplan layouts, some with loft options. Sizes range from 1,453 to 2,587 sq. ft. on a 50-ft. lot. Phase one prices start at $799,900.
Since 1977, Geranium has developed numerous master-planned communities, taking them from conception to completion, creating desirable neighbourhoods and establishing a solid reputation for quality design and construction.
The sales centre and model homes are located at 48 Coulter St., Port Perry, open Monday to Wednesday 11 a.m. to 6 p.m.; Saturday and Sunday 11 a.m. to 5 p.m.; Thursday and Friday by appointment.