Celebrates the beginning of construction in Ballantrae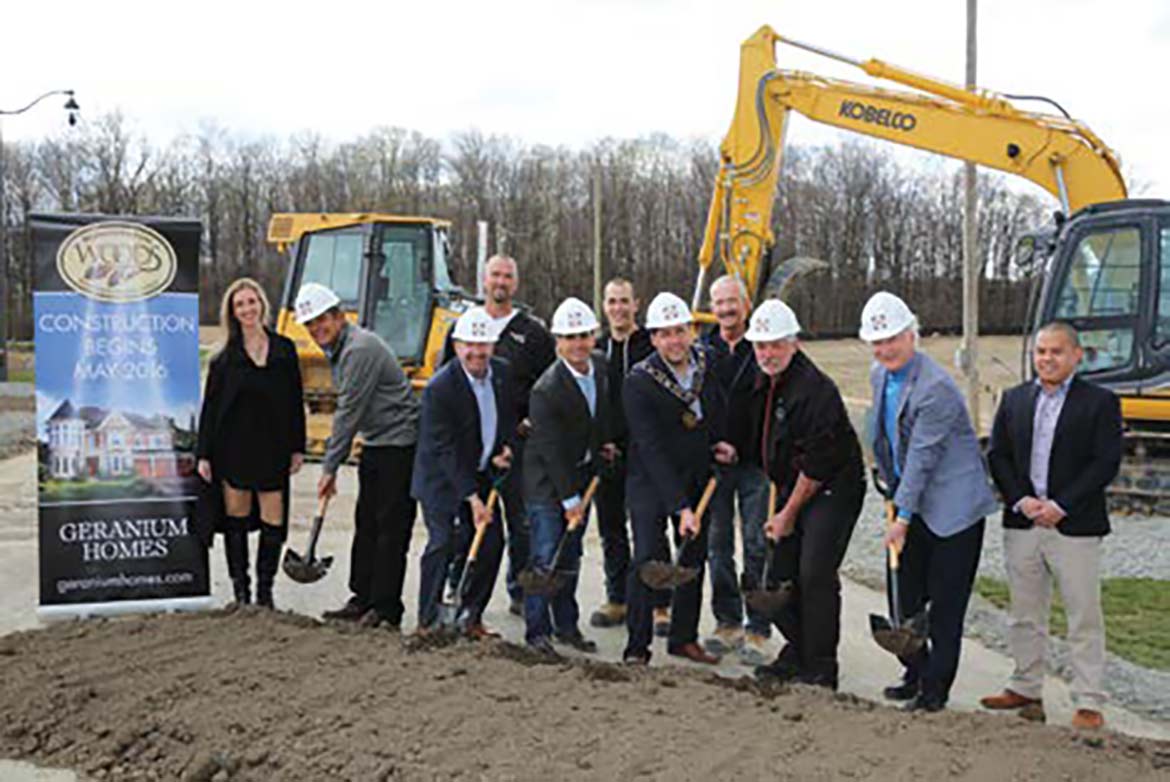 FRONT ROW, FROM LEFT
: Geranium Homes' Stephanie Lane; Councillors Ken Ferdinands and Rick Upton; Boaz Feiner; Mayor Justin Altmann; Councillors Hugo Kroon and Maurice Smith; Geranium's Derrick Canete. Back row, Geranium's site team, Bill Jewel, Luke Giampietri and Brent Shaw.
WHITCHURCH-STOUFFVILLE Mayor Justin Altmann and local Councillors recently joined award-winning Geranium Homes to celebrate the beginning of construction at Bloomington Woods in the hamlet of Ballantrae.
"Bloomington Woods is our third estate home community in Whitchurch-Stouffville, and we are so pleased to have the Mayor and Council take time from their busy schedules to join us to mark the occasion," says Boaz Feiner, president of Geranium Homes. "We are very much looking forward to welcoming our homeowners into their new Geranium community when they begin moving in early next year."

Bloomington Woods is an enclave community located in a one-of-a-kind woodland setting, minutes from Stouffville. The 14 estate lots are all sold and, upon completion, will comprise a neighbourhood of two-storey, bungalow and bungalow-loft homes with architecturally controlled exteriors in materials of genuine clay brick, precast stone, Hardie Board siding and trim, decorative moldings and accent features such as turrets, columns, copulas add streetscape interest. Homes range in size from 3,165 to 6,006 sq. ft.
Since 1977, Geranium has developed numerous master-planned communities, taking them from conception to completion, creating desirable neighbourhoods and establishing a solid reputation for quality design and construction.