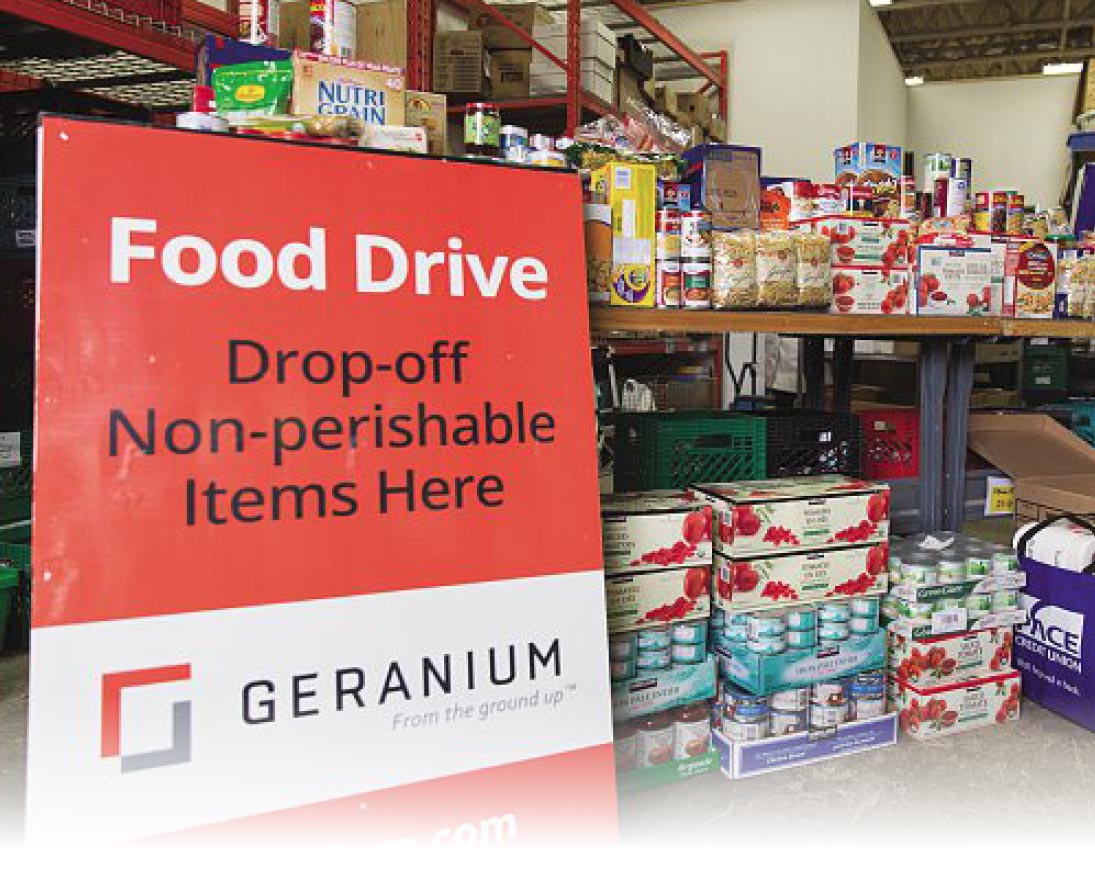 Geranium's team along with representatives of SCS Consulting Group, MQ Energy, Golder Associates, and PACE Credit Union were joined by Anand Date, Chair of the Board of Directors and Whitchurch-Stouffville Mayor Justin Altmann for the annual Thanksgiving donation of funds and non-perishable food items.
Each year Geranium promotes the food drive to residents ofTheNeighbourhoods of Cardinal Point in Stouffville.The company's construction team collects donations from trades and suppliers of its active Stouffville building sites, and Geranium's employees also donate. These contributions are added to the donations from suppliers working on Geranium's new home developments, such as those listed above as well as James Hardie Building Products, ConDrain Group, ConElco, Eye-View Drain Services, Griffith Property Services, Hawkins Contracting, KD Signs, Rocky River Construction and Todd Brothers Contracting. This year the total was $8,450, which includes $100 per
home closed between October 1, 2016 and late September 2017, at Geranium's estate home neighbourhoods.
"We thank Geranium for their annual food drive contributions to the Stouffville Food Bank. The goal of our Stouffville Food Bank is to provide food to individuals and families within Stouffville. Since 1992 our Board Members and Volunteers have been dedicated to serving our community by providing our assistance in a caring and nonjudgmental way to those who are in need," said Anand Date. "This started nine years ago when Cardinal Point was still in its early stages and has grown into a much-appreciated annual event involving people from the many different aspects of our business – employees, homeowners, consultants and trades," said Stephanie Lane, Geranium's Marketing & Sales Manager. "We feel it's important to contribute to the communities within which we build and our joint contribution makes a big difference to the Food Bank."