Last week was Earth Week and it got me thinking about all the wonderful ways we recycle and reuse.  Having just finished making a lovely wine rack out of a used wood pallet (photo above), I started digging for more ideas. I couldn't believe all the creative uses for pallets or skids, both inside and out, so I thought I'd share some of  my favourites.
1. Shelves
Just like the Wine Rack above, pallets are naturals for shelving in any room of the house.
 2. Laundry Hamper
There were tons of hamper suggestions, my favourite came from 101Pallets.com.
3. Coffee Table
Indoors or out, there are plenty of creative designs to transform your pallets into functional tables.
4. Pet Beds
Rustic, easy to do, and cost effective.  What more could you ask for? The how-to is here.
5. Patio Swing
Many homes offer the charm of a front porch, just like our Verandas in Port Hope.  How about your own swing, made simply and inexpensively?  I got the DIY instructions from Decoist.
6.  Garden Storage
I really liked this idea from Kylee Baumle for storing all the garden utensils. Go to Our Little Acre for complete details on how to do this.
7.  Pallet Fence
Pallet Fences work great to hide air conditioner units. Thanks to Camelot Art Creations for the inspiration.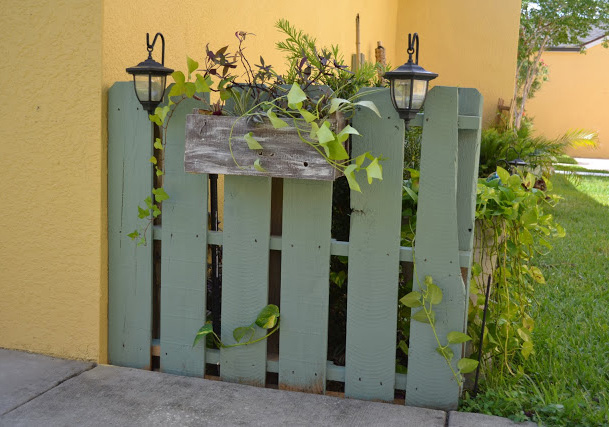 8. Patio Furniture
It's easier than you'd think,  building your own patio Day Bed.
9. Hanging Planters
I could do a whole blog post on using pallets for outdoor planters, but this one here was my favourite.
10. Wine Rack
Back right where we started, DIY Wine Rack!  On the left is the inspiration for our project, and the right is our finished product. Suggestion?  I think I'd make two rows to hold more wine, but  I really like having the place for the wine glasses below.