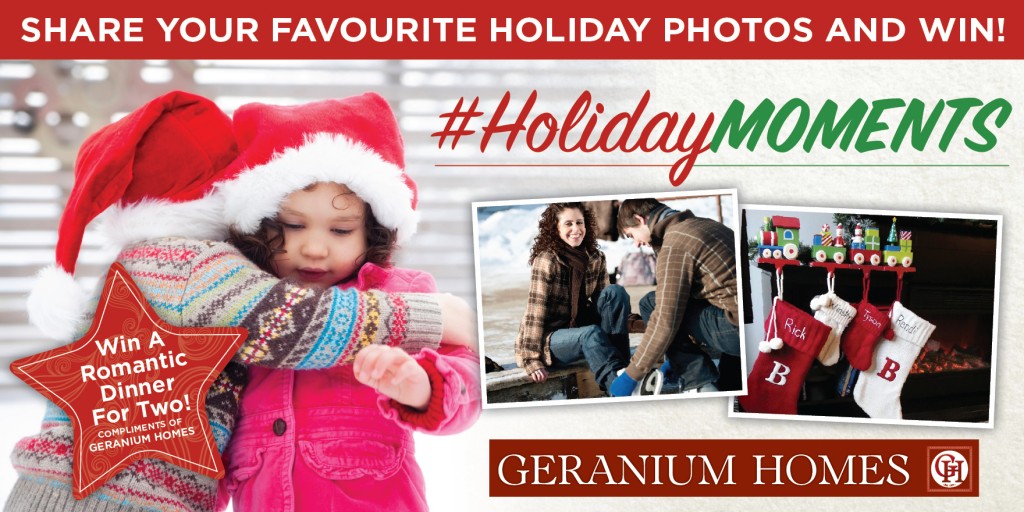 The holidays are here, and its time to take out the camera!   You know, as the kids get older, it really makes me realize just how important all those pictures I relentlessly took every holiday really are.  Those photos, every one of them, have become a priceless memento to cherish always.
I guess that's why I'm so excited about this photo contest we've put together for the holidays.  The Geranium Homes #HolidayMoments contest.  Share your favourite photos with  us, include the hashtag #holidaymoments then enter to win dinner for two!  Now it doesn't have to just be Christmas or New Year's – it can be any holiday that's special to you – birthdays, anniversaries, homecoming, the first snowfall – it doesn't matter.
The idea is to capture the best part of your holiday memory.  And with so many social media opportunities you can enter to win on Facebook, Twitter, Instagram or Pinterest!  Just be sure to add the #holidaymoments hashtag and #GeraniumHomes and then let us know how to find you – by filling out the entry form.  And if you have any questions or directions on how to share it on your favourite social media site, simply  send us an email at social@geraniumhomes.com we'll be glad to help!
Enjoy the holidays, the fun, the moments – and then share those moments with us.  Click here for full contest rules. Contest closes January 31, 2015
"What I like about photographs is that they capture a moment that's gone forever, impossible to reproduce." Karl Lagerfield