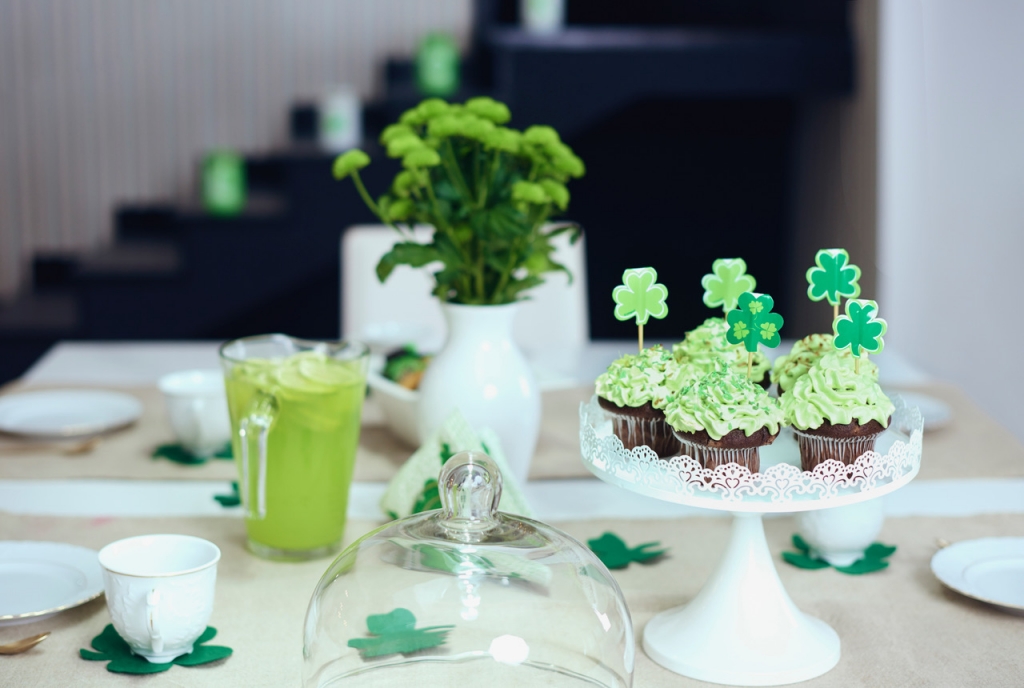 St. Patrick's Day is right around the corner! We've created a roundup of tips to have your party be the talk of the town.
Decorations
Go Green! Party stores and dollar stores are stocked with many decorations for the occasion, including streamers, tablecloths, party hats and everything green.
March break is here. Start making activities with the kids while they are off school, to get them excited. This 'Lucky' banner would be a great craft to try. All you need would be ribbon, paper, and scissors.
For something a bit more advanced, these potted paper clovers would look perfect as a centrepiece and would look great next to your baked goods.
Don't forget a pot of gold! Fill a planter's pot with gold foiled chocolate coins. A fun decoration that guests can help themselves to!
Festive Food
Food is one of the best parts of any party! Keep on theme with traditional Irish delicacies, such as: Irish Stew and Corned Beef and Cabbage, Irish Soda Bread or Irish Red Ale, Cheddar and Potato Soup, leaving guests full and happy with yummy treats.
Green-themed desserts are also a great option. While any of these 11 St. Patrick's Day desserts would make your guests happy, this key lime doughnut recipe looks delicious! Consider incorporating the doughnuts or even cupcakes into a gift bag as your guests leave to give them something to bring home.
Bulk candy stores will sell lots of green candy. Place them in decorative St. Patrick's Day bowls to keep everything on theme.
St Patrick's Day Drinks
Green and festive drinks make a great addition to any St. Patrick's Day party. The always popular Green Beer, or apple juice and Irish Coffee are great festive options for your guests!
If you're having a "bring your own" party, ask your guests to bring their own favourite Irish Drink! Be sure to have the Irish favourites on hand, Guinness, Irish Whiskey and Bailey's Irish Cream. For guests who'd like a mixed drink or cocktail, these St. Patrick's Day cocktails would make anybody not at your party green with envy. Our personal favourite is the tasty Honeydew Martini. Yum!
Have something for everybody, with these very fun non-alcoholic drinks!
Games
This Pot of Gold game is simple to set up and will be a crowd favourite. All you need is a pot and some plastic coins. Players bounce the coins off the ground and into the pot to compete for the "pot of gold"!
Another great game to try is the Leprechaun Relay. Visit your local thrift store for leprechaun inspired outfits. Divide your players into two teams, have the first person put on a "leprechaun outfit" and then complete an obstacle course. The first runners would then take off the leprechaun clothes and pass them to the next player to complete the course. This process continues until everyone has competed.
St Patrick's Day also marks the beginning of spring. Many reasons to celebrate! Happy Shamrock Day to all! Have fun, be safe, and celebrate!