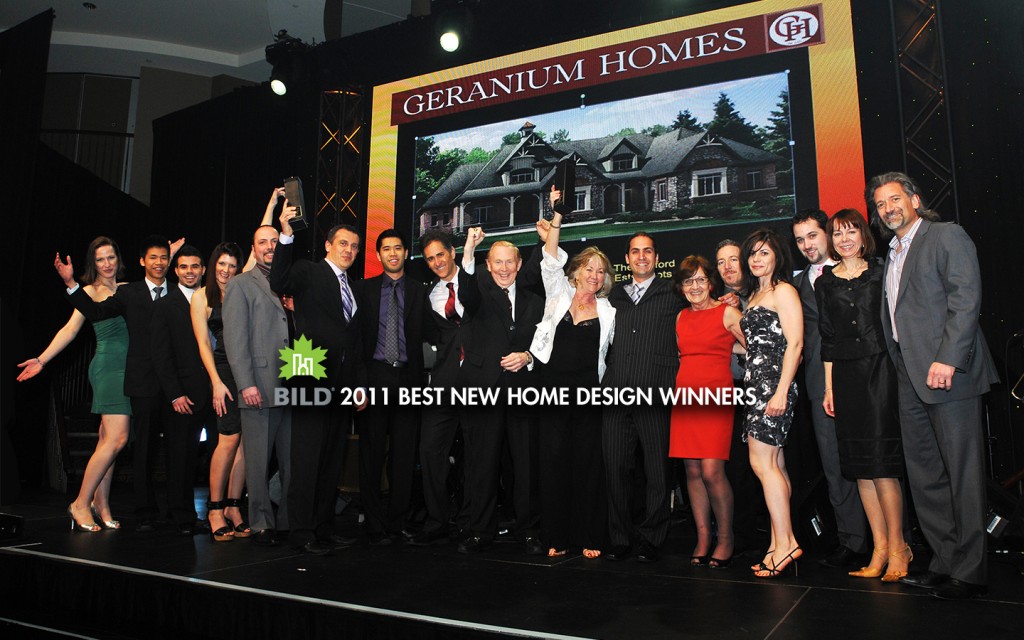 2012 was an astounding year for Geranium Homes, taking home top accolades at two of the home building industry's major award presentations!
The celebration started in March when Geranium received the Grand SAM at the 2011 Canadian Home Builders' Association (CHBA) National Sam Awards. Recognizing the highest level of excellence in both building and marketing, the Grand SAM award is the most coveted honour bestowed on a Canadian builder.
This accomplishment was followed up in April when Geranium Homes received the Building Industry and Land Development (BILD) Association's highest honour "Home Builder of the Year," a distinction based on quality, service and customer commitment.
According to Geranium President, Boaz Feiner – Geranium's Alderley Model, available at their Forest Trail Estates neighbourhood in Ballantrae, also continued to be an industry (and home buyer) favourite. Winning for BILD's Best Single Detached Home (over 2,200 sq ft) and the CHBA's winner for Best Single Detached Home (2,500–4,000 sq ft)
Tonight is the 33rd Annual BILD Awards celebrating the best of the best in the GTA's homebuilding industry where BILD will announce the 2013 Home Builder of the Year. 
 As our year draws to a close, we look forward to passing the torch to yet another deserving builder. Good luck to all of the nominees!