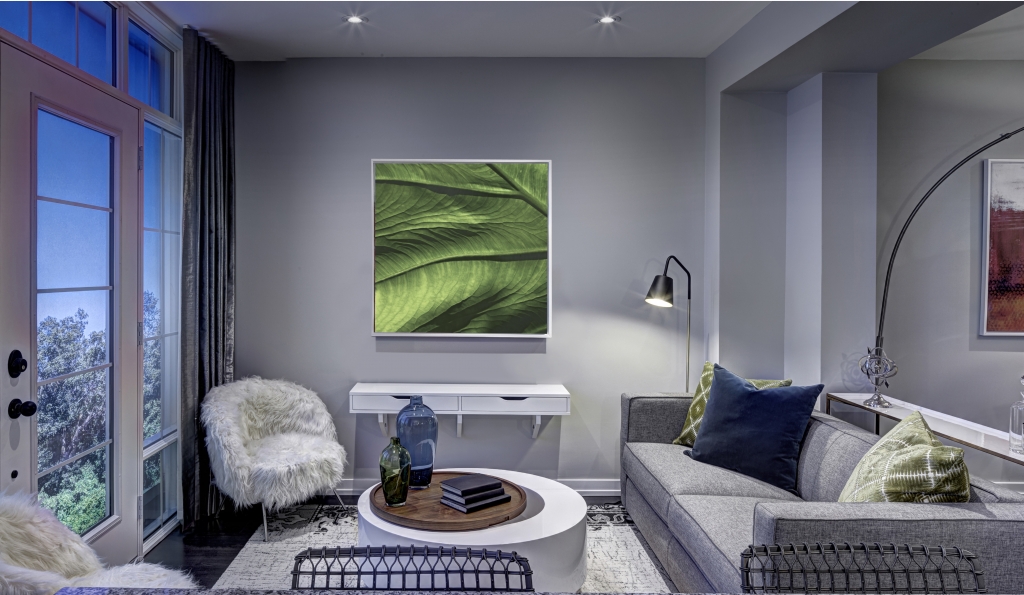 Edgy, brilliant, soft, spectacular –2017 is going to be an exciting year in home décor! From the new colours in style, to furniture trends and how to utilize spaces in your home, we can't wait to implement these exciting design trends for 2017!
We talked to acclaimed interior designer Jo-Ann Capelaci to find out what we should be looking forward to in the New Year.
Pantone's Colour of the Year
We welcome the 2017 Colour of Year – Greenery. A symbol of new beginnings, this vibrant green is reminiscent of nature and sunny days ahead. Look to see this colour on both walls and accessories in 2017!
Upholstered Headboards
This trend will add flair and warmth to your bedroom. In 2016 we saw reclaimed wood headboards, but 2017 is heading in a softer direction. Update your master bedroom by adding an upholstered headboard to bring in a sophisticated and classic feel. You'll be seeing these emerge next year, so get a head start and make your own.
Your New Favourite Space
Create a feeling of coziness in your home with a nook. If you already have a breakfast nook, a mudroom, or a reading nook embrace the trend and show it off. Or perhaps you'd like to construct one or the feeling of one? Here is some inspiration to design your new favourite space for 2017.
Jewel Tones
Pastel blues and pinks were the trend last year. In 2017 gorgeous jeweled tones will emerge! Whether you're using an emerald or sapphire-inspired wall colour, or magenta and turquoise pops and accessories, your room will be stylish and opulent. Velvet fabrics will accentuate these rich tones. Here's how to pair these lavish colours.
Grey Cabinets
Look for grey to appear on kitchen cabinets this year. Whether you are looking for a light and airy feel, or a dark and cozy vibe – this design trend is so versatile, the possibilities are endless!
Hexagon Floor Tiles
This classic style is coming back for 2017. In the bathroom, kitchen or mudroom, hexagon floor tiles will bring an updated, timeless feel to some of your favourite spaces. Get inspired by these beautiful uses of the tile.
Vintage Upcycling
You know what they say, what's old is new, especially when you're upcycling antiques into a new-to-you and unique piece. Try your hand at up cycling with one of these creative ideas. Take one of Gramma's treasures and incorporate it into your contemporary space by painting it a fun colour or repurposing it into something unexpected.
We're excited to see all of these new trends throughout 2017. If you try one out, send us your pics!