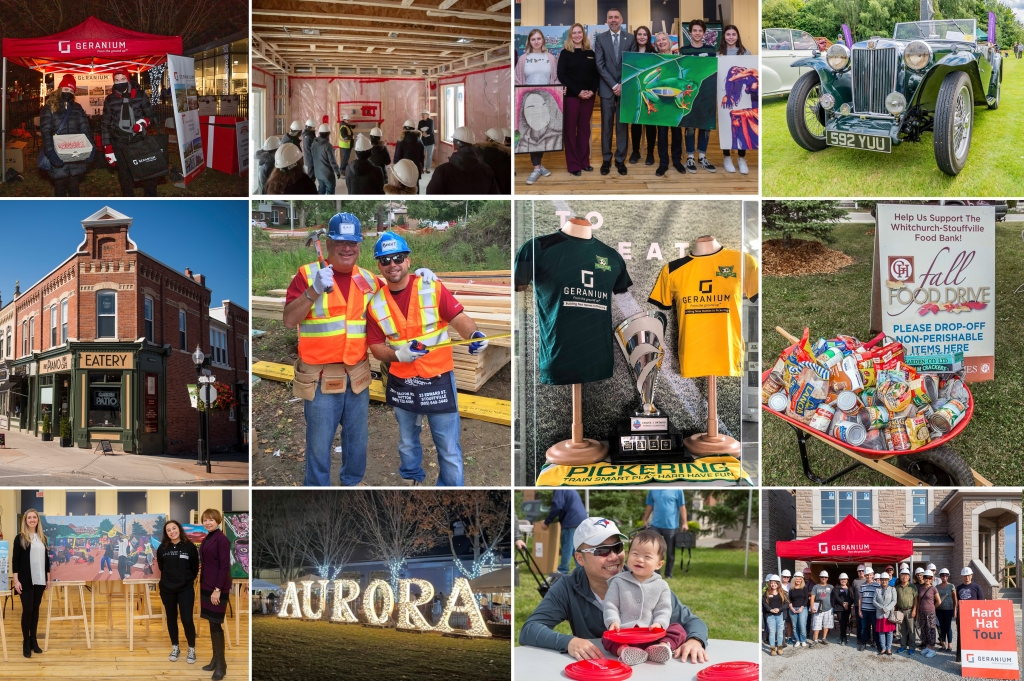 After 45 years, and with thousands of homes to their credit, Geranium has earned a sterling reputation as a builder/developer who goes far beyond the bricks and mortar of building your new home. While there are many things that set the company apart from other builders, from award-winning designs to better-than-code construction, none are more important than the commitment to giving back.
Even before project sales and construction begins, Geranium reaches out to find interesting and innovative ways to create lasting partnerships with friends and neighbours in the communities in which they build.
Supporting Port Perry's Historic Downtown
When Geranium began building homes in Port Perry it was important to connect with the town's thriving downtown core. This has included becoming the Presenting Sponsor of the town's popular Brits on the Lake event. A yearly favourite, this car show features classic cars, motorcycles and other vehicles attracting thousands to Port Perry's downtown and waterfront.
To further support Port Perry's local business community, Geranium gifted all Courts of Canterbury homeowners a complimentary lunch at a local favourite – the Piano Inn Cafe. This initiative was timed to support the restaurant during the traditionally slower months of January and February.

Supporting Youth Arts In Aurora
The Mayor's Celebration of Youth Arts in Aurora is a very special event that gives graduating grade 12 students a chance to show their creativity as they explore their artistic abilities. Geranium is honoured to have sponsored the annual exhibition for the past 5 years, promoting this wonderful showcase via shared social media with the Aurora Cultural Centre.
Spreading Joy During The Holiday Season
With the help of everyone on the Geranium Team, including Staff, Trades and Partners, it's important to get involved during the Holiday Season in every Geranium community. This includes supporting yearly Toy and Food Drives including CTV and the Salvation Army's Toy Mountain. In 2021 Geranium was also proud to sponsor the Town of Aurora's popular Christmas Market and Tree Lighting, as well as the Pickering Mayor's New Year's Day Levee.
Going Behind The Walls
Geranium is also keenly aware of the trust purchasers place in them to build their new home and works hard to meet and surpass expectations. One way the company does this is by offering Hard Hat Tours to homeowners.
Led by the Site Superintendents and Geranium staff, these tours present a unique opportunity for small groups of Geranium homeowners to learn more and ask questions about the behind-the-walls materials, and construction methods, that Geranium uses to future-proof your new home for today and the years ahead.
Over the years Geranium is proud to say that they have partnered with dozens of local organizations, charities and area businesses – helping to give back and create better communities to call home. These efforts have not gone unnoticed and have resulted in Geranium receiving accolades and recognition from local communities, home builder associations and homeowners alike.
It's this commitment that has earned Geranium 7 nominations in this year's Durham Region Builders' Association Awards of Excellence 2022 including recognition as a Finalist for Builder of the Year, Community of the Year, and for the prestigious People's Choice Award.
You can vote for the People's Choice award at https://bit.ly/DRHBApc
Voting closes April 14.