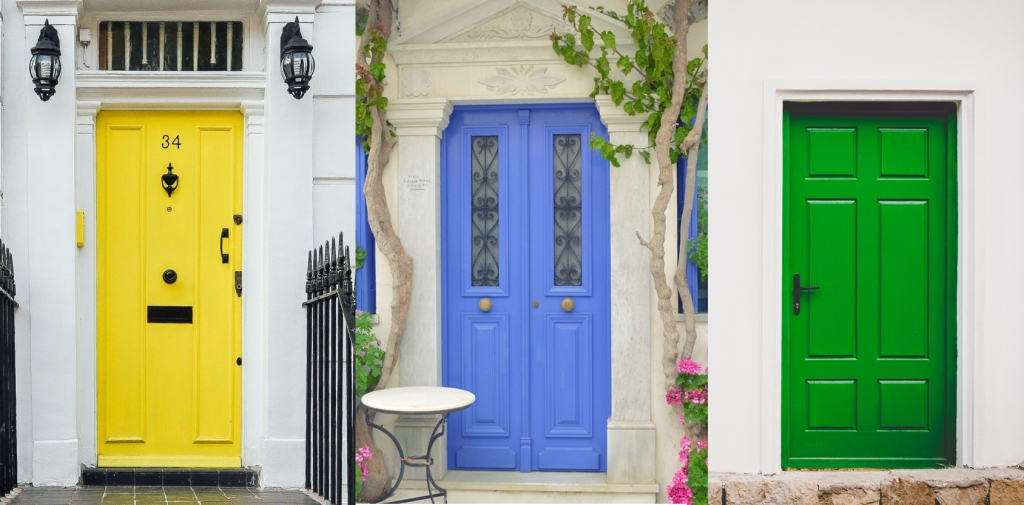 Your front door is the first thing people see when coming to your home, and the last thing they see when leaving. The right colour sets the tone and says a lot about you and your home. Here's what your front door says.
Red
The colour red is associated with vitality, energy and happiness. In many cultures, red represents luck and good fortune. This is the perfect bold colour to excite people coming into your home.
Yellow
Often the perfect complement to your house's exterior, yellow is a welcoming way to go when painting your front door. It's known as a bright, energetic colour that inspires happiness. What a great way to make a first impression!
Green
Add life to your home's exterior with a green front door. It reflects the colours found in nature and symbolizes new beginnings. There are so many shades to choose from. Get adventurous with a slice of lime or take a more traditional approach with Greenery, a former Pantone Colour of the Year!
Black
If you want to convey elegance, paint your front door black. It's a bold statement of strength and sophistication, yet the simplicity brings a level of order and grace to your front porch.
Blue
From powder blue, to indigo or stunning cobalt, blues are the perfect way to go when painting your front door. These popular colours offer a warm welcome every time you come home!
Orange
Express your personal style with a bold entrance. There is nothing more bright and cheerful than a splash of orange and a fun way to boost your curb appeal.
Gray
This neutral is chic and sleek of gray is always on trend. Gray is sure to bring a modern elegance to your front door without going too dark with black, or too neutral with beige.
Whether it's sunny yellow or warm and welcoming blue, your front door is a fun and inexpensive way to brighten up your home's exterior.
Still not sure which colour to choose? Here's a chart that will help with this decision, or try this quiz, to find the colour that best suits your personality and lifestyle!
Happy painting!