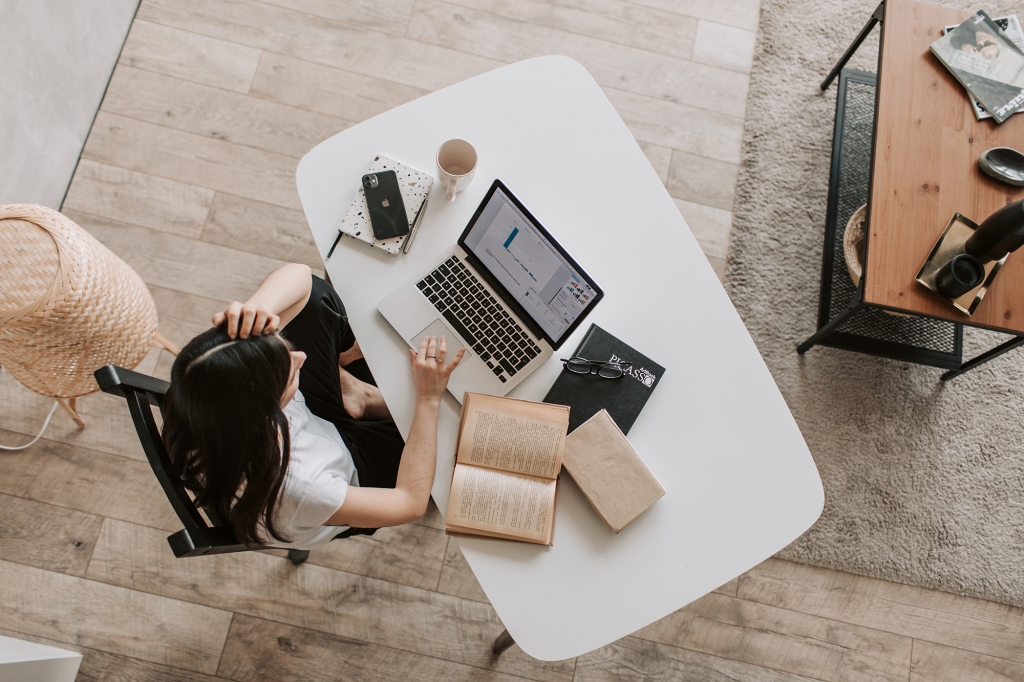 Haven't found your perfect at-home work space? Don't fret! To help you create the ideal workspace, with a minimum of fuss and a maximum of comfort, we've put together a quick guide to building your perfect home office environment.
Location, Location, Location
Your home office should be comprised of core elements that are used in a conventional workspace. But before you start shopping for the essentials – such as a desk, comfy chair and supplies – you'll need to decide where to locate and set up your home office. Whether it's making double use of your dining room or kitchen table, an unused corner in your home or ideally a spare room if space allows, your goal is to create an inviting environment that promotes efficiency and is conducive for work, while away from distractions and interruptions of an increasingly hectic daily home life.
Where to start? Fortunately, with the advent of Pinterest and numerous design boards available online, it's now easier than ever to assemble an image gallery of inspiration which will help you plan, locate and bring to life your perfect at home workspace.

All Office Chairs Are Not Created Equal
There are many types of office chairs, and while there isn't one type that is necessarily the best, the important thing to look for is support and comfort. Make sure you can adjust the height of your seat so your feet are flat on the floor, your arms should be even with the height of your desk. Your chair should promote good posture, with a seat that is comfortable to sit on for long periods of time. Armrests, backrests and headrests are often a personal preference, it's important to find the style that works for you.
Get Healthy Stay Healthy offers important tips for better sitting posture.

Physical Comfort
Investing in the essentials of your workspace is crucial to building an environment that suits your daily needs and makes you happy at work and rest.
Have you noticed your back and neck may be hurting just a little bit more than normal? While there could be a number of factors, consider enhancing the ergonomics at your workshop. A few ways to do that include:
1. A lumbar pillow for additional back support.
2. Ensuring your keyboard and mouse are at the same level, so that your wrists remain straight.
3. Keep key objects like telephone and printer close to minimize reaching.
4. Footrest – Should you need to raise the height of your chair, use a footrest or stool so your feet remain flat on the floor.
5. Consider a standing desk – Stay on your feet as you work and you may be less likely to have shoulder or back pain.
Make your computer work for you by positioning the monitor and keyboard correctly. Ergonomic Trends provide essential tips on obtaining the ideal position.

Multi-Task Work Spaces
A busy household means more work space demands; parents on a conference calls or working on reports, while kids or young adults attend virtual schooling or after-school homework. Today's home offices must be able to multi-task as efficiently and effectively as the people and families who work in them.
A quality desk or work station, paired with a comfortable chair or chairs, can easily become the perfect centerpiece of any home office or work area. So, whether it's for your daily office work, your kids' online classes and homework, or video meetings, the best desks make it easy to work and learn from home and do the job of balancing productivity and well-being.
If space is at a premium, remember that a dining room table by its very nature is the perfect communal space. Not only does it offer plenty of room to spread out, and for multiple workers at once, your formal dining room is often one of the most under-utilized spaces in a home.

Home Offices That Inspire
As working from home becomes the norm, new home designs are changing to include dedicated home offices. One such example can be found within The Forte model at our popular Allegro neighbourhood in Downtown Aurora. With interior design by the acclaimed Patton Design Studio team, this wonderful office setting features double oversized French doors for privacy, a soaring coffered ceiling with pot light accents, and sun-filled bay windows for plenty of natural light. Anchored by a calming blue pastel colour scheme, with striking monochromatic bookcase-inspired wallpaper accents, furniture pieces and artwork, the design is fresh and clean, creating a bright, light home office/library that is the perfect place to get busy – whether it's working from home, paying bills or studying for a final exam.
A 360° Model Home tour of The Forte is available at allegroaurora.com

The Bottom Line
Making the most from your home office space, by incorporating many of the above mentioned tips, will go a long away to maintaining an ideal work-life balance. Share with us your own tips for creating a positive work-at-home environment.