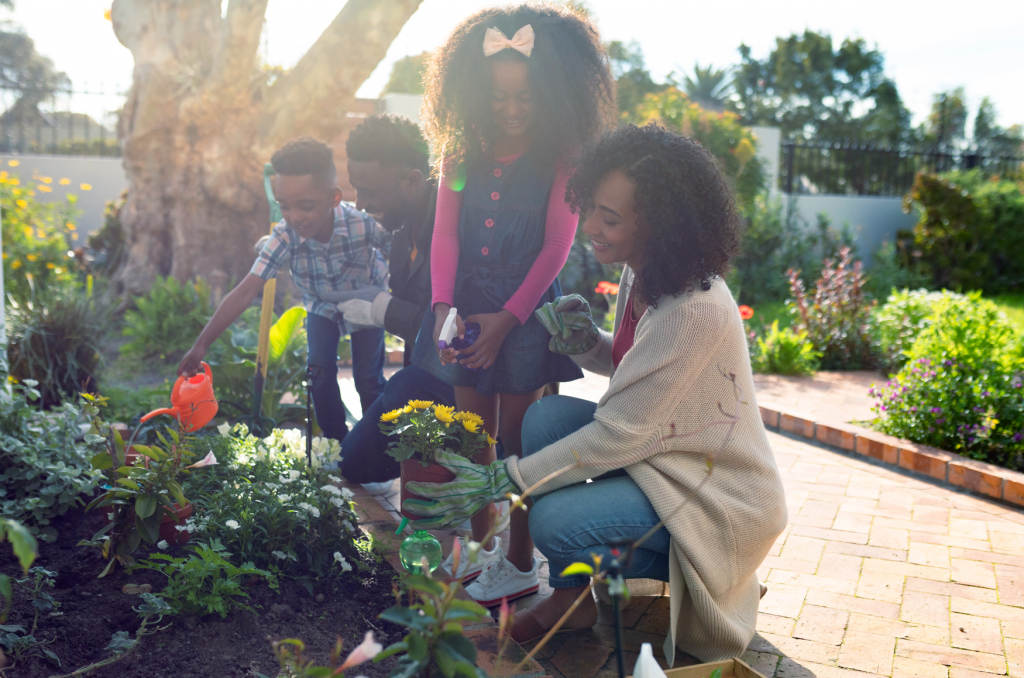 Fall is known for its colours, so when those summer flowers start to fade away, have some fun and give your garden a fresh fall makeover. Hardy fall flowers allow you to fill your garden with colour even as the nights get chilly.
Before you start:
Aim to plant at least six weeks before the first hard frost in your area. This allows plants enough time to root properly before winter. Make sure your garden bed is well prepared and add compost to enrich the soil. And don't forget to water frequently.

Some Fall Favourites:
While many plants thrive when planted in the fall, some varieties are particularly well-suited for this season.
Marigolds
These hardy annuals bloom constantly. They like full sun, but can take cool nights and survive a light frost. Another advantage of Marigolds is they are usually easy to find at your local nursery even in the late summer.
Asters
Asters are perennials that fill our autumn with colour. These perennials bloom around the same time that mums do, they like full sun, and are hardy in almost every climate. These late bloomers attract pollinators and come in shades of blue, lavender, pink and purple.
Pansies and Violas
Pansies and Violas come in a wide variety of colours. Because they love cooler temperatures, they're perfect fall plants. They're best planted while the sun is still strong, so that their roots can strengthen to survive the cold. You need to cover them in winter but if planted and covered properly, there is a chance they may pop up again in spring.
Chrysanthemums
The iconic Fall Flower. They don't mind a light frost and come in a variety of colours. Often the mums you use to decorate your front porch can be planted in your garden, as long as they have enough time for their roots to establish before the ground freezes, and some will return year after year. Just cut your mums back to about 8 inches above the ground when they finish blooming.
Black-Eyed Susan
Although they do best when planted in spring, you can still put blooming Black-Eyed Susan plants in early fall for a nice burst of colour. There are annual, biennial and perennial varieties – find the ones with vibrant autumn colours to enjoy this year. When you cut the flowers to add colour to your indoor arrangements you're helping them grow and encouraging continued blooming.
Fountain Grass
Like most ornamental grasses, you can plant Purple Fountain Grass in the fall. Be sure to pick up the grasses in large containers from your nursery if you want to enjoy them this year. These grasses can grow very tall, and wide, so give them plenty of space to breathe.
Autumn Sedum
A favourite for pollinators, the Autumn Sedum is a great addition to your butterfly garden as a late-season nectar source. These flowers can be planted in the fall as long as you choose a place that gets direct sunlight for at least six hours. Make sure the roots are well established before the ground freezes. After the freeze, trim off the foliage, and leave it throughout the winter. It may take a long time to start in the spring, but don't worry, you will start to see new buds by mid spring.
Leafy Greens
Just because most vegetables are planted during the warmer months doesn't mean that you should abandon your vegetable garden in the fall. Leafy greens like kale, perpetual spinach, cabbage and winter lettuce can all be sown in late August, and you can harvest the leaves through the first frost. Here's a list of vegetables that you can add to your garden right now.
Embrace the colour and magic of fall with a garden refresh!