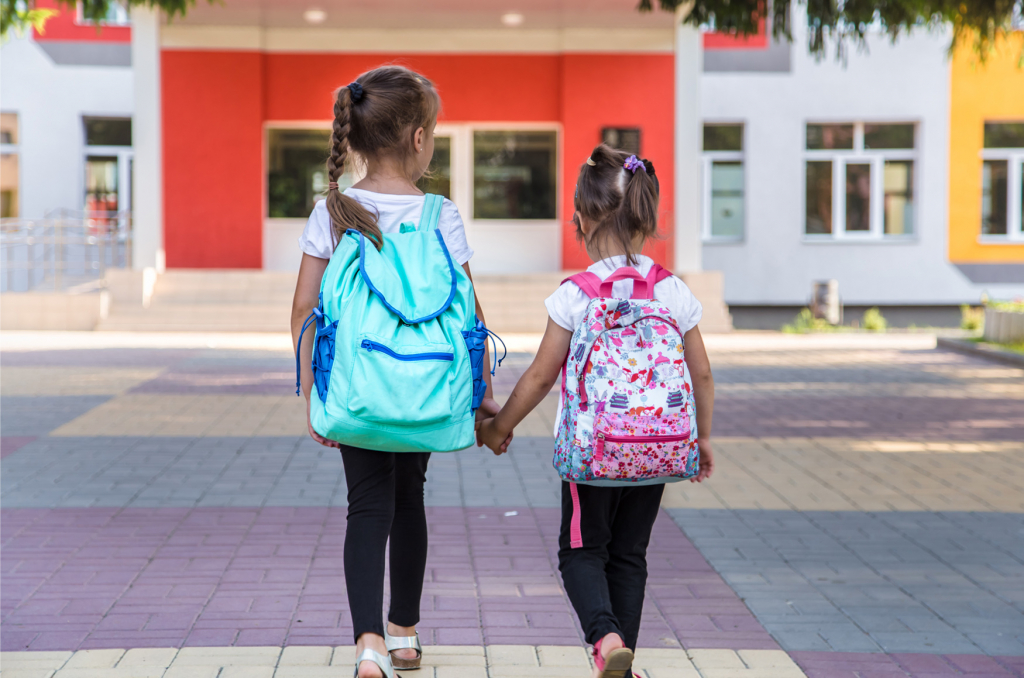 Excitement, butterflies, jitters, the gamut of emotions leading up to the first day of the school year. For kids going to a new school, it can be a stressful time. A new home, a new school, so much is going on, these tips should help pave the way.
Learn About Your New School
Learn as much as you can about your new school. Take a tour, walk around the outside and inside of the school. Get familiar with the layout and where you're expected to be. Practice opening the lockers. If you can, talk to people at the school. Teachers understand more than most the stress you and your child are going through.
Many schools, like the Simcoe County District School Board have Newcomer Welcome Centres to help students and families in their school area.
Get Connected
Check online. Many schools have social media groups where students and parents connect. By joining these groups before the school year, you'll get a feel for the culture and possibly make some friends. Check our school list below; each website offers links to their social media pages.
Sign up for school newsletters, check their events calendars and be sure to subscribe to any newsfeeds, so you will get a notification of school closures, bus cancellations or important news updates.
Continue First Day Traditions
Sticking with as many familiar routines or rituals as possible will make those first days back less overwhelming. Play it cool and treat day one like any other first day of school.
Start the school routine in August, especially sleeping and breakfast, to get your family comfortable with fall schedules.
Get Involved
Join Clubs or Teams: Encourage your son or daughter to join clubs or sports teams at the school. It's a fantastic way to meet people who share your interests. It also gives kids a sense of belonging at their new school.
The same advice goes for the parents as well. Consider volunteering at your children's school. There are many volunteer opportunities available, whether it's the PTA, lunchroom supervising, coaching, school plays or concerts, there are many ways to get involved.
Be Patient
The amount of time it takes to settle into a new school depends on the child. While some kids transition seamlessly, others may take longer to adjust. Don't push. Let your child move at their own pace, but be sure to listen to their concerns and be there when they need help.
Before you know it, the new school will be a home filled with new exciting moments and memories.
Schools In Our Communities
Here are links to the school boards in our communities. It's a great starting point to getting to know your new school.
Aurora
York Region District School Board – Ontario's 3rd largest school district, with 180 elementary schools and 33 secondary schools throughout the York Region.
York Catholic District School Board – With 85 elementary and 16 secondary schools across the region's nine municipalities, it's one of the top-performing school boards in Ontario.
Pickering/Claremont
Durham District School Board – With 136 elementary and secondary schools and learning centres. DDSB has more than 76,000 regular day students and thousands more who take continuing education and adult credit courses.
Durham Catholic District School Board – Of the 39 elementary schools, 7 secondary schools and 6 alternative education and continuing education sites, DCDSB has 45 certified Ontario EcoSchools. These schools nurture environmental learning and climate action working towards a sustainable future.
Midhurst
Simcoe County District School Board – 38 of SCDSB schools have earned EcoSchools Certifications, including 9 platinum and 12 gold, as a result of their environmental actions and activities. The school board is also proud of their Empower Simcoe Awards, acknowledgment for individuals who promote and exemplify an inclusive school environment.
Simcoe Muskoka Catholic District School Board – Staff and students at SMCDSB participate in environmental action with Going Green, a program that shows students how to reduce energy use and minimize waste at school and at home.
Toronto
Toronto District School Board – One of the largest and most diverse school boards in Canada, they offer many programs for elementary and secondary school students and their families. With a special section for families who are new to Canada, TDSB offers a number of mentorship programs.
Toronto Catholic District School Board – The TCDSB Orientation Centre provides school registration and placement services for newcomer families and their children.
Our staff at the Orientation Centre are highly skilled and trained, and have assessed, supported and placed thousands of students from outside of Ontario and Canada in various secondary schools within the TCDSB.
Whichever school your children will be attending, it's important to encourage open communication as they embark on this exciting and sometimes stressful new adventure. Doing more listening than talking and offering support and encouragement will go a long way toward making a smooth transition to this new chapter in their lives.