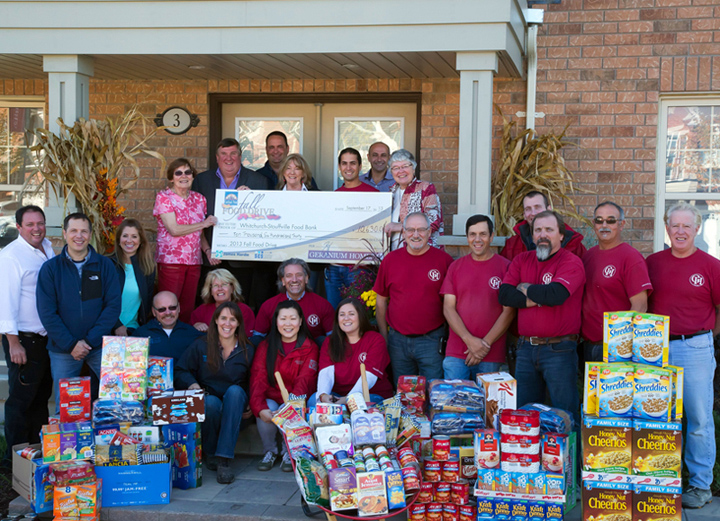 Every year Geranium Homes aims a little higher in their goal for collecting food and donations to support the Whitchurch-Stouffville Food Bank and they're never disappointed. They started in 2009 with many truckloads of non-perishable food items and a cheque presentation of $2,450. This year Geranium's President Boaz Feiner presented a cheque in the amount of $10,630! This represents the combined total of funds from Geranium's donation of $50 per home sold at Cardinal Point in the past year as well as contributions including $2,000 from James Hardie Building Products.
Thanks to homeowners, staff, suppliers and trades people of The Neighbourhoods of Cardinal Point the Food Bank was once again the recipient of a major September food drive. A special thanks to SCS Consulting Group for arranging the collection of food items from the trades and suppliers.
On hand to receive the cheque, Marion Wells, Executive Director of the Food Bank said "From the bottom of our hearts, we thank everyone who contributes along with Geranium to give us such a huge boost each year."
Whitchurch-Stouffville Mayor Wayne Emmerson added that every dollar donated is actually the equivalent of three-dollars in the hands of the organizers of the food bank who are able to use the money to purchase fresh meat, eggs, bread, cheese and other items to supplement the non-perishable goods. "Geranium's leadership means so much to this volunteer organization. I am very appreciative of their contribution," he said.
Over 5 years, the total of money donated is a whopping $32,211!
When it comes to fundraising events, Geranium Homes is no novice. Along with Stouffville's Annual Food Drive, Geranium Homes participates in, among other things, Habitat for Humanity Fundraising, Coby Builds A House for charities including SickKids, local events and up next? A new mitten campaign to help various shelters and support our athletes. Watch for details coming soon!