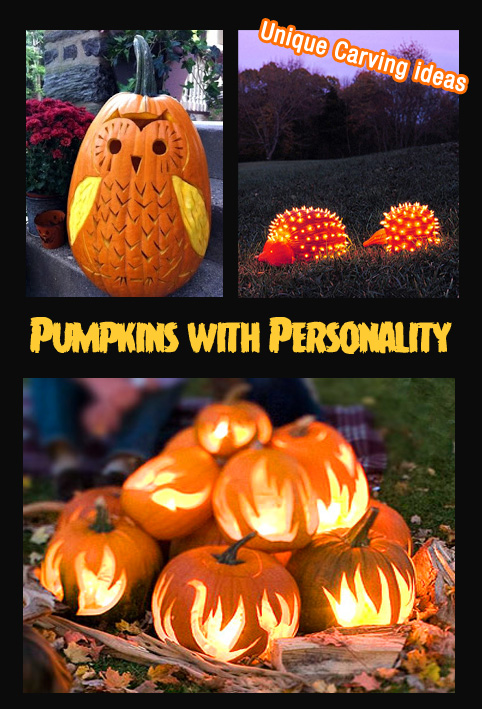 I have to admit, I have alway looked forward to picking out the perfect pumpkin and carving it for Hallowe'en. Scarey, funny, goofy it didn't matter, as long as it was lit up and ready to go on October 31. But this year, I've decided to try something a little different than the usual grinning toothy face. After scouring the Internet, multiple Pinterest pages and design magazines, my head is still spinning with so many ideas. Here are some of my favourites.
Pumpkin Creatures
Leave it to Martha Stewart to come up with this one: Pumpkin Porcupines! I'm on the lookout for the right shaped pumpkins to do this. The "quills" are made with white holiday lights pushed through drilled holes that are slightly smaller than the lights.
Flaming Pumpkins
Now this is a great idea for outdoor design. You'll need 6-12 pumpkins to create a good log surround. Stack the largest carved pumpkins on the bottom, and then work your way up to the smaller ones. You can get full instructions, including the flame stencil, here.
Alien Pumpkins
This is my daughter's favourite. The bright and colourful aliens(left) are a real hit with the young ones – a little bit of craft foam and plastic ornaments are needed to complete this look. The right photo eliminates the trip to the craft store by using the pumpkin cuttings to create a more traditional jack-o-lantern effect.
Fanged Pumpkins
Love it! My own Drac-o-lantern! All I need is to grab some plastic fangs and thumbtacks from the Dollar Store or Michaels and now we're talking! The only problem is you can't stick a candle in and light them. Maybe I'll try those flameless votive candles.
Painted Pumpkins
The "trendy" painted pumpkin – I've seen pink, plaid, polka-dots, even Candy Corn painted ones. But it wasn't until I came across this Pop Culture blog did I see something I liked. White Pumpkins with simple black images. If you can't find white pumpkins, you can always paint one. I like this for holiday decorating, however when it gets dark on Hallowe'en night, they'll be hard to see.
Decoupage Pumpkins
Taking the painted look one step further. For those who love decoupage – pull out the Mod Podge and try these spooky creations. Featured in Home Trends magazine, they say they're easy to do, but I wouldn't have the heart to throw them out after Hallowe'en.
The Carved Pumpkin
I guess when it all boils down to it, I'm a traditionalist at heart. I still like to scoop out the seeds and all the goopy insides and put candle in my Jack-O-Lantern. There's just something about the smell of a candle burning inside a pumpkin. Choosing between the hand-drawn carvings, the drilled pumpkin look, or the many different stencils available – this is still my favourite way to decorate a pumpkin. So with so many to choose from, including this the Tinkerbell idea, I'm ready to start creating. I just need to make sure I have enough candles!

Happy Hallowe'en Everyone! I'd love to see what Jack-O-Lanterns you come up for your home!