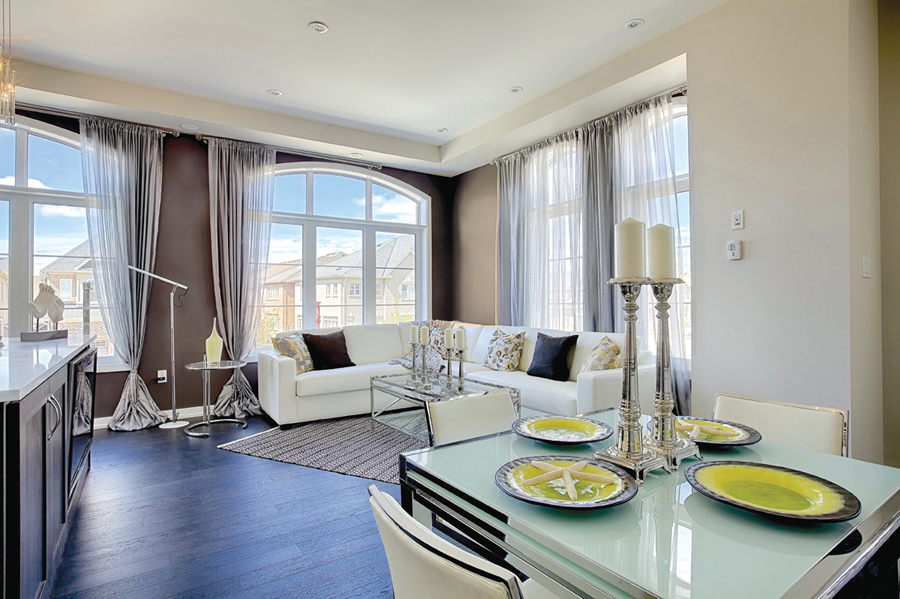 Chances are your home reflects your personal style. It's got that appeal, but when you're ready to sell it is not "staged." A home that has been properly staged allows potential homebuyers to picture your space as their new home.
Bring out the best of your home with these simple home staging steps:
Maximize Curb Appeal
You never get a second chance to make a first impression. While the interior decor is important, the outside of your home is the first thing people see.  The appearance of your exterior helps homebuyers decide whether or not they want to even look inside. Having a clutter free, well-maintained yard, a festive front porch or even a newly painted trim can instantly add curb appeal to your home.
Depersonalize the Space
While this step may be emotional for the seller, depersonalizing your home is essential. Personal belongings, paintings and collections can distract the homebuyers' attention from the quality of your home. Depersonalizing also helps declutter spaces in your home, which you may overlook while cleaning for an open house. Here are a few more tips to help make buyers feel that your home could potentially become theirs.
Neutral Colours
Homebuyers enjoy the feeling of entering a space that seems like a blank canvas. Neutral colours subtly enhance your walls and give the illusion of a larger space. Avoid dark colours, especially in smaller spaces, as they fade more quickly around natural light and can minimize the true size of the room. Here's a list of 8 of the best colours for your home.
Let There Be Light
Highlight the strengths of your home with both artificial and natural light. Homeowners enjoy the use of natural light as it provides a fresher feel to the home, however artificial light can enhance a space in way the homebuyer wouldn't realize. If your home is showcasing, a happy medium will allow your home to shine.
Declutter the Kitchen
The kitchen is often viewed as the focal point of the home. That's why keeping this space decluttered is very important.  Limit countertop items to the bare essentials; store small appliances in cupboards.  A great tip from perfecthomemaking is to remove any pot racks. They may look nice but they send the impression that the kitchen doesn't have enough storage.  If you're unable to remove the rack entirely, only hang 2 or 3 items for ideal staging.
Clean
This goes without saying. A clean and fresh house will have better selling power than a messy one. Take the time to tidy up your spaces by vacuuming, dusting and wiping down spaces. While it is necessary to clean up your mess, make sure that the space still looks lived in. Rooms that seem too delicate to touch may deter homebuyers from getting a feel of what they could utilize that space for.
Stage the Outdoors
Much like curb appeal, staging your outdoors is important to homeowners. Make sure to maintain your property and even think seasonally. In the spring and summer months landscaping and maintaining a beautiful garden will automatically garner attention from homebuyers. Whereas in the autumn and winter months focus your attention on season appropriate décor that says "welcome" without going overboard.  Make sure all walkways are clear and easy to maneuver. Though, you may not use your backyard when there's snow, a potential buyer will want to take a walk out back.
Keep up appearances at all times during the selling process as staging your home properly will be the key to successfully getting it noticed and sold.