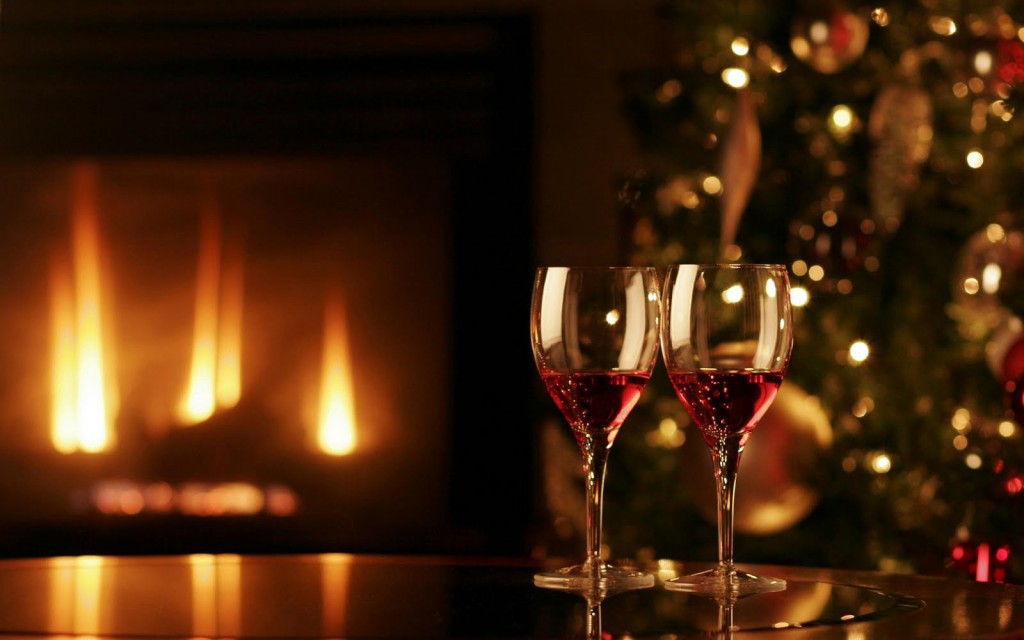 Whether it's an intimate dinner for two, or friends and neighbours, or family game night – New Year's Eve at home can be anything but boring. So I thought I'd just share a few recipes and fun ideas to help with your celebration.
The Setting
They say home is where the heart is … so it doesn't take much to create the perfect ambiance. Dress up for the occasion and add some formality to the dinner table, complete with cloth napkins and tablecloth, long stem candles, the "good" dishes and more candles – I really enjoyed the blog damn I can do this – that showed this beautiful setting:
The Meal
If it's a party askmen.com suggests Light snacks, cocktails, or finger foods are the way to go on New Year's Eve, as opposed to a sit-down dinner. This gives people the opportunity to mingle with others, without restricting them to a designated seat at the dinner table.
However, dinner for two is a different story. Preparing the meal together is all part of the fun of having a romantic dinner at home. Just be sure to have an appetizer or two ready beforehand to nibble on so you can spend your time creating.
Your main course should be something simple that doesn't require a lot of prep, we like to fire up the barbeque and enjoy a nice steak. Yes, true Canadians will barbeque no matter what the weather.
My favourite for New Year's Eve? A lobster tail – if you cook it right it will rival any premium entrée at the finest restaurant.
How to cook a lobster tail (frozen)
For best results defrost your frozen lobster tails overnight in the refrigerator or alternatively place them in a bowl of cold water.
Next it's time to grab the kitchen shears and cut your lobster tail.
Insert the point of the scissors between the meat and the hard top shell.
Cut the shell down the center all the way to the tail leaving tail fan intact.(Don't remove the under shell.
Grab each side of the shell and gently pry away the shell away from the meat
Continue to pry the shell away from the meat but keep the back of the meat connected to the shell.
Once the meat is freed, grab the meat, squeeze the shell together to close the gap and lay the meat on top of the shell.
For complete, easy to follow step-by-step photos click here.
At this stage, the lobster tails can be refrigerated until ready to bake. Cover with plastic wrap to prevent drying out. You can broil, bake, even barbeque your lobster, I've found baking works best.
Preheat oven to 350 degrees F.
Place prepared (6 ounce) lobster tails on a baking sheet,
Brush each lobster tail with melted butter, and lemon juice (optional)
Bake approximately 10-15 minutes or until meat thermometer register an internal temperature of 140 to 145 degrees F (do not overcook, as the lobster will become tough and rubbery).
While cooking, lobster shells will turn that bright red color well before the meat is thoroughly cooked inside.
There you have it a meal fit for a king .. and queen.
Drinks
Whether it's wine, champagne, or sparkling cider – you need something to ring in the new year!
Epicurious offers a list of the top 5 affordable sparkling wines for those who want bubbly without the high price.
Serving champagne? I do not profess to be an expert in Champagne, so if I found some tips on champagne types and accompaniments on Canada.com.
Personally, I find champagne a bit heavy, so champagne cocktails are a nice alternative.
Pomegranate Champagne Cocktail
1 ounce chilled pomegranate juice or chilled cranberry juice (2 tablespoons)
3 ounces chilled champagne (6 tablespoons)
1 teaspoon pomegranate seeds (optional)
Pour the pomegranate juice into a champagne flute. Slowly add champagne.
Garnish with pomegranate seeds (optional) and enjoy!
Desserts
By the time we enjoy appetizers, a beautiful supper and some drinks – dessert is something we usually wait quite a while for.
But it can be something simple like leftover baking from Christmas or go for something more fun like a chocolate fondue or how about a s'mores buffet! I talked about this in a previous blog about summer entertaining, yet it's definitely a fun way to ring in the new year!
No matter what you do to celebrate, making New Year's Eve a magical night to remember is easy – it's not about where you are or what you do, it's about who you are doing it with!
May the New Year bring you gifts of good health and happiness. Happy New Year from all of us here at Geranium Homes!