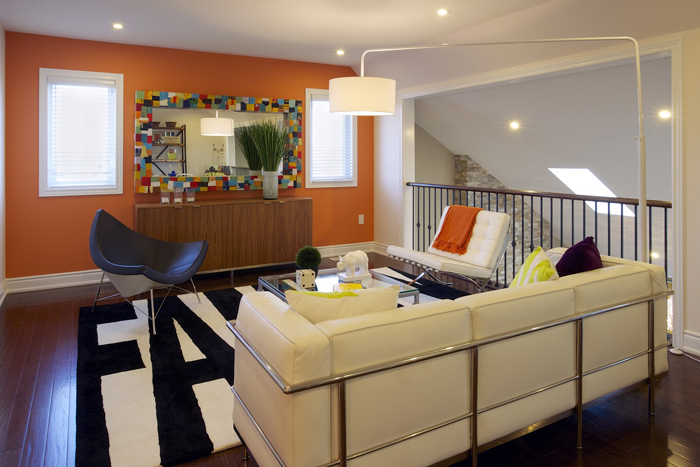 Accent walls can be a powerful design choice in your home.  But many of us are afraid to take that step – to move out of our comfort zone and paint one wall a colour that really pops.  Take this loft from Geranium Homes' Village at Sally Creek – the deep colour makes a bold statement, especially when surrounded by neutral walls and ceiling. It creates an anchor for furniture and becomes a focal point for the room. I was so impressed by this overall effect  – I decided to give it a try.
Choosing the Right Wall
Bottom line – make sure you choose the right  wall to accent. Decide on the wall that anchors the room or offers something interesting to look at.   Start by taking a look around the room. Is there a place your eyes are naturally drawn to when you walk in?  That's the wall you want to accentuate. SheKnows.com recommends you choose a wall that has some architectural charm to it, like one with a fireplace, built-in bookshelf or a large window.  This model home in Cardinal Point shows the result of accenting the fireplace wall.
Choosing the Right Colour
The next step is choosing the colour.  Be sure to check out my earlier blog post on choosing paint colours for suggestions.  Bold, colourful shades make for a good accent choice because they accentuate a space without overpowering it. Pick a coordinating colour that fits the room's overall theme or choose a colour out of your fabric.   Using a vibrant colour on an accent wall is bold, but if you want a more dramatic effect go for a dark colours like navy, charcoal or even black. A dark colour looks great against surrounding light walls and creates a really striking contrast.
Choosing the Paint
After scouring through countless paint chips and ideas, we pulled a colour out of our chair fabric, a dark gray (Obsidian Glass), for the accent.  What we didn't take into account when we choose to paint our  wall was the type of paint.  We had used satin throughout the room and figured we'd use the same type for the darker wall. Mistake!  The darkness of the paint showed every bump and had a sheen that detracted from the overall look. Armed with a new gallon of paint in an eggshell, we repainted … lesson learned!
An accent wall can offer a simple, stylish way to add colour to a room.  We were so pleased with the result, we're going to go for an even bolder colour  in our family room.  Please share with me your thoughts, ideas or photos on accent walls.  And, if you've got a great shot of one in a Geranium Home, don't forget to Pin It 2 Win!  Contest details here.