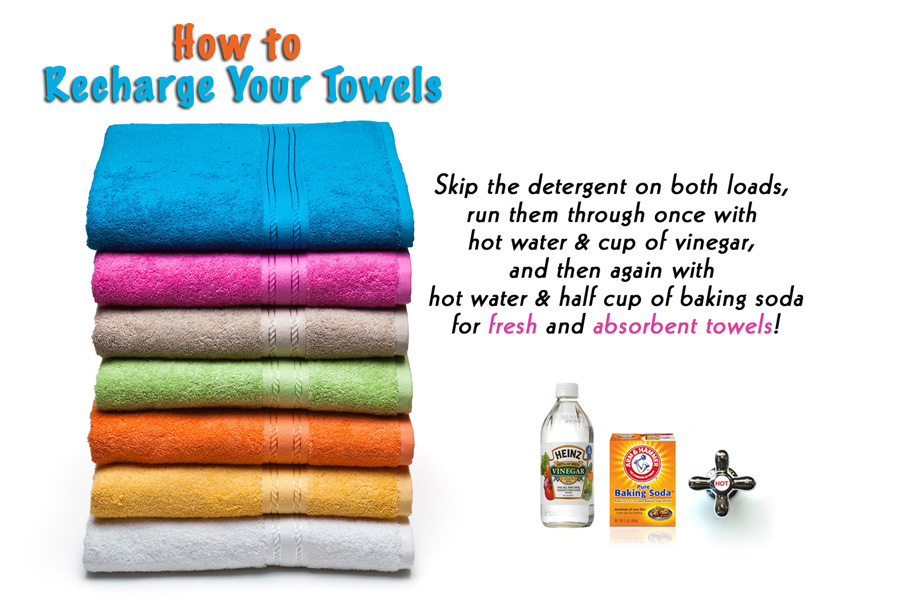 It all started with the towels!
I just wanted to find a way to get rid of the stale, musty smell in my towels. So I started looking up various ways to bring new life to my laundry and soon realized I've been doing it wrong all these years. I was surprised to find out that you shouldn't use fabric softeners when washing towels, (the softeners can cause a buildup, and the towels will not absorb water as well.)
I tried the vinegar and baking soda trick and the difference was impressive (along with money I now save on laundry detergent!)
That's when I decided to share some of these wonderful tips I've found over the years. Face it, there are tons out there, but a lot of them can be just a gimmick or plain bad advice. So here are a few household tips, which I have actually tried successfully, to make your day to day a little easier!
Household uses for used dryer sheets: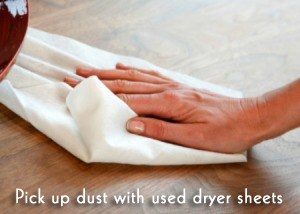 Dust your TV screen, the anti-static chemicals help repel lint & dust. This works for computer screens as well.
When packing, put a dryer sheet in your suitcase for fresh smelling clothes, even at the cottage. Also keep one in your luggage between uses, that way all your bags will remain smelling fresh until the next time you go on a trip.
Dry and static hair? Gently wipe a used dryer sheet over your head (my daughter likes to does this one.)
Run a sheet over a piece of thread when you're doing sewing tasks. The thread won't tangle up as easy.
When scissors aren't cutting as smoothly as they should -wipe the blades clean with a used dryer sheet.
Repel mosquitoes – oh yes! But don't rub it on you. Instead, stick a used sheet in your belt loop.
Clean baseboards, the sheet not only cleans up, but coats them to repel hair and dust.
Stuff them in shoes, place them in closets, in laundry hampers any place that could use freshening up.
Favourite fruit tips
Lemons
Air Freshener: I got this recipe from Places In The Home boiling lemons with fresh herbs for a natural freshener. The blog recommends rosemary, but I've used mint and/or vanilla, this works well with Oranges as well. Reader's Digest actually recommends baking the lemons.
Microwave Cleaner: 
Add lemon rinds to a microwave-safe bowl filled halfway with water. Cook on high for 5 minutes to allow the water to boil and the steam. Carefully remove the hot bowl and wipe away the mess with a damp towel.
Refrigerator Freshener:
 Cut lemon in half and let it absorb fridge smells. Lemon rinds in the garbage helps out as well.
Ant-Proof Your Kitchen:
 They say if you scatter small slices of lemon peel along windowsills, around door entrances, and near any cracks or holes where ants are entering, they don't like lemon and will stay away. I've just started doing this; I've yet to see results.
Frozen Grapes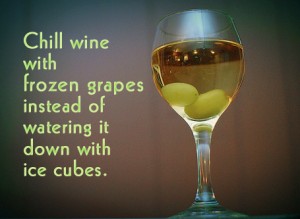 They make a great summer snack when you're looking for something refreshing that's not full of calories. Just make sure you wash the grapes thoroughly before freezing them in a Ziploc bag. Actually a lot of different fruits taste great frozen. Strawberries, blueberries – just put them in an ice cube tray to freeze.
My personal favourite thing to do with frozen grapes? Throw a few in a wine glass to chill the wine without watering it down!
Finally, a few tips for outside:
Baking Soda – Keep weeds and grasses from growing in the cracks of your paved driveways and walkways. Sprinkle handfuls of baking soda onto the concrete and simply sweep it into the cracks. Dandelions and weeds don't like the added sodium.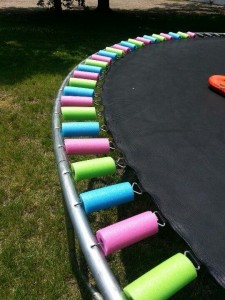 Do you have a Trampoline that the fabric covering the springs is wearing down? Try wrapping the springs with pool noodles, they'll last longer and really brighten things up. I saw this on Pinterest and thought it was such a fun idea, we did it at my friend's house, the actual making it was time consuming and a bit frustrating but with enough people helping out it looked great. However it doesn't offer the same protection as the original spring cover does.
Wasp Trap – Take a plastic bottle and cut the neck off. Remove the cap, flip the neck upside down and place it in the bottle. Tape or staple together then fill with bait. you can bait it with sugar & water, sugar & lemon juice, beer, pop or mashed up grapes. Voila! Instant wasp trap!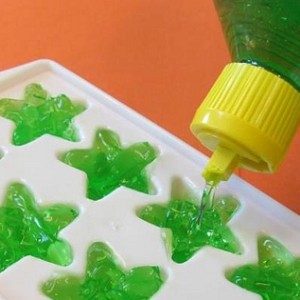 Sunburn Relief – Freeze Aloe Vera in an ice cube tray for instant sunburn relief. It's great for kids and adults too.
Mosquito Bites – I've been doing this since I was a kid. When you've got a bite that won't stop itching dab a little vinegar on it. It works, as long as you don't mind smelling like a french fry.
There you go, a few tips for a summer's day. This was fun, I'll have to post some more tips in the near future. Whether it's for a new home, the cottage, or renovating an old home – what are your favourite shortcuts? I'd love to hear from you!