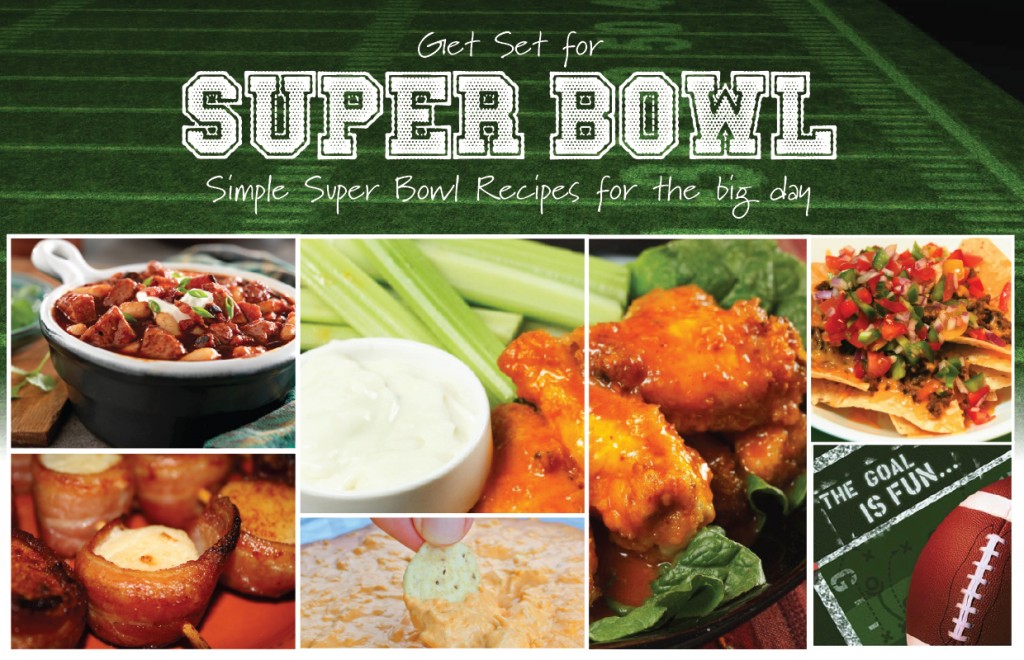 As we gear up for Sunday's Big Game, we thought we'd share some time honoured Super Bowl recipes for your Game Day entertaining. Each of these dishes are easy to make, simple to enjoy and in keeping with the Super Bowl Party tradition! So what are the staples? Chicken Wings, Chili, Nachos .. practically anything you can eat while standing, sitting, watching and socializing. Here are five recipes sure to score points with your friends.
Chicken Wings
Sports lovers are passionate about their chicken wings. When I asked the guys at work I was told in no uncertain terms, "it's simple, don't mess with it."
For original Buffalo Chicken Wings use equal parts Franks Red Hot Sauce and butter. As your sauce is bubbling away on the stove, fry your chicken wings.
Put them in a bowl, add sauce, give them a shake and serve. It's doesn't get much easier than that.
However, if you are looking for a little variation, Chef Dennis serves up Honey-Lime Buffalo Wings that are baked, not fried. Click here for the recipe including a nice blue cheese dip.
Chili
Everyone has their favourite chili recipe so I thought I'd share something slightly different. Here's a Pork, Bacon and White Bean Chili straight from Pork Be Inspired. Although this is a stovetop recipe, I've tried it in the slow cooker with success.
Ingredients:
1 1/2 pounds pork loin roast, cut into 3/4-inch dice*
8 ounces bacon, thick-cut, (5 or 6 slices), cut crosswise into 1/4-inch strips
1 large onion, cut into 1/2-inch dice
2 tablespoons chili powder
1 tablespoon smoked paprika
2 cans diced tomatoes
1 1/2 cups water
2 cans white kidney beans (or other white beans,) drained
Salt
1/2 cup sour cream, (optional)
2 scallions, thinly sliced (optional)
Instructions:
In a large saucepan or small stockpot over medium heat, cook the bacon, stirring occasionally, until crisp, 8 to 10 minutes. Use a slotted spoon to transfer the bacon to a paper towel-lined plate and set aside.
Add the onion to the bacon fat and cook, stirring occasionally, for 2 minutes. Increase the heat to medium-high, add the pork, and cook, stirring occasionally, until the onions are crisp-tender, 6 to 8 minutes. Stir in the chili powder and paprika. Stir in the tomatoes (with their juices) and water. Bring to a boil, reduce to a simmer, and cook, stirring occasionally, until the pork is tender, 35 to 45 minutes. Stir in the beans and about 2/3 of the bacon and cook, stirring occasionally, until heated through, about 10 minutes. Add salt to taste. Serve the chili garnished with the remaining bacon and the sour cream and scallions, if using.
Nachos
Let's face it, you can't get much simpler than nachos. And the recipe can be tailor made to suit everyone's tastes.
Ingredients:
1 large bag of tortilla chips
Shredded Cheese
Salsa
Chicken, sauteed and diced
Optional Toppings include:
Red Peppers
Jalapeno peppers
Olives
Diced Tomatoes
Sour Cream
Green Onions
Feel free to experiment with toppings.
Instructions:
Simply line a baking sheet with parchment paper (this way you can easily lift the nachos onto a serving platter as soon as you take out of oven.)
Spread out the tortilla chips, then layer with cheese, chicken and additional toppings. Cook in preheated oven at 400 degrees for 10-15 minutes, and serve with sour cream!
Buffalo Chicken Wing Dip
This has turned out to be a real party favourite in our house.
Ingredients
1 1/2 cups cooked and shredded chicken or 1 (12 ounce) can chunk chicken, drained
1 (8 ounce) package cream cheese, softened
1/2 cup Ranch dressing
1/2 cup Franks Red Hot Buffalo wing sauce (Start with less if you want and add more to your desired hotness.)
3/4 cup shredded Cheddar cheese
Blue cheese crumbles (optional)
Instructions
Heat chicken and Buffalo sauce in a skillet over medium heat, until heated through. Make sure to break up the chicken so there are no big chunks. Stir in cream cheese and ranch dressing. Cook, stirring until well blended and warm. Mix in shredded cheese. Pour into a shallow dish or pie pan and sprinkle with blue cheese crumbles and microwave it until the cheese melts. We usually only sprinkle blue cheese on half of it for those who aren't blue cheese fans. Serve with chips for dipping. Thanks to The Girl Who Ate Everything for this recipe.
Bacon Wrapped Scallops
I'd really like to thank the frisky lemon for the quick, easy and tasty appetizer. (Landlubbers can substitute scallops with water chestnuts)
Ingredients:
1 lb bacon
1 lb scallops
Sea salt and pepper
Instructions:
Just cut the bacon strips in half, and wrap each scallop. Season with a little salt and pepper and secure with a toothpick.
Place on a baking sheet (line it with tin foil for easy clean up)
Bake at 400 F for 20 minutes, then flip and bake for another 20 minutes–until the bacon is crispy and the scallops are opaque.
Serve with lemon or
Sauce:
1/4 cup ketchup
1/4 cup brown sugar
1 teaspoon Worcestershire sauce
So sick back, stay warm and enjoy the game with good food and great friends. From everyone at Geranium let the game begin!