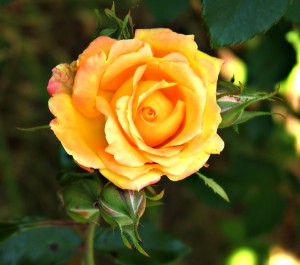 A new poll says that 82% of Canadians believe the May Long Weekend is an ideal time for spring chores, with gardening and landscaping being at the top of the list.
I guess I'm your average Canadian because that's just what I did this past weekend. The best part was finally being able to sit back and see just how much we actually accomplished in preparing the beds and gardens. It really gets you excited for another great Canadian Summer. So now I'd thought I'd put my tired feet up and share some timely tips I learned on shaping up roses for the season.
When to Prune
They say to prune rose bushes after the danger of frost has passed and the buds begin to swell. With the crazy weather we've had lately, I hope that it's finally safe to get the job done.
What to Prune
Focus on the 3 Ds – dead, diseased and damaged growth.
Dead canes are easy to spot, generally black in colour with no signs of life. As for the diseased and damaged, some roses have their own colour code that will tell you what canes are healthy. Red canes are generally new. Green ones are about a year old. Black, Brown or White are too old to host new blooms and growth.
Beyond that you want to prune the stems that are growing across walkways or other bushes, but don't get carried away. If you're a novice pruner, like me, prune lightly – you can always cut more later.

How to Cut
When pruning roses bushes, if you need to remove an entire cane, cut it off at the bud union.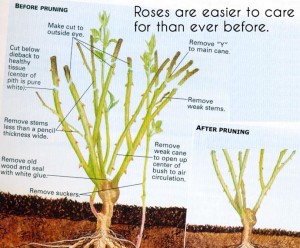 The new growth will start on the high side of the cut and from the highest remaining bud.
Thanks to the Backyard Diva for this great photo and guide I used over the weekend when cutting back my roses.
Removing Suckers
Suckers are usually easy to identify because they look different than the rest of the rose bush. They are flowerless stems with 7 leaflets rather than a healthy flowering stem of 5 leaflets. The best way to do this is by pulling and twisting them off, rather than cutting them. If you simply cut a sucker off at ground level, you'll get twice as many growing at the same place next year.
There you have it, Pruning Roses 101. Honestly, it wasn't as hard as I thought it would be and it's good to know roses are a pretty forgiving resilient plant.