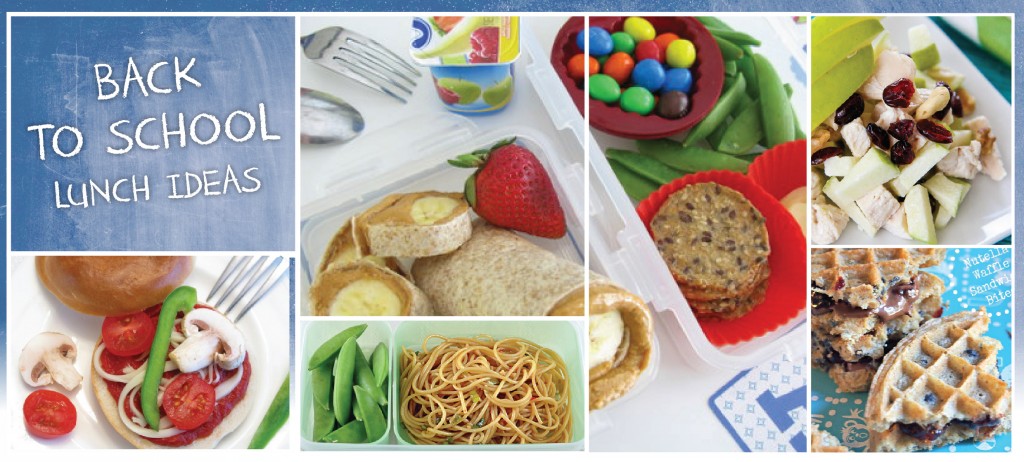 When did making school lunches become so complicated? What happened to the old days when you took a PB&J sandwich with an apple in paper bag? In a world of food restrictions, allergies and infinite choices, lunchbag letdown has taken on a life of its own. So as we get ready to go Back to School – we're getting prepared to accept the lunch box challenge and come up with new ideas the kids will eat.
Let's start with some basic lunch box packing survival tips:
1. Pick up some reusable divided containers, whether it's the basic Ziploc variety or something fancier complete with ice pack. It doesn't matter as long as its resealable and the compartments make sense.
2. Before going shopping for lunch box food, check to see what you have around the house, you'd be surprised what can be transformed into a satisfying snack.
3. Make a little extra at dinnertime so that leftovers can go into the lunch box at the same time.
4. Keep last minute snacks handy, like Goldfish, raisins, or carrots to add a little extra.
5. Any lunch that can be prepared the night before is a winner. Sandwiches always seem to go a bit soggy when they sit over night, but the morning rush in our house makes it way to hectic to be putting together lunches as we all rush out the door.
With these points in mind, here are some neat ideas I look forward to trying.
Lunch on a Stick recipe
Shish-kebab skewers can be found in any grocery or dollar store, and can be cut to the best length. Although I've provided a recipe (above), let your imagination take over and use what's in the fridge.
Chips and Dip recipe
Salsa, sour cream, and although this recipe calls for avocados (not sure how many kids like avocados), I just put some carrots, celery or anything crunchy in for the kids to enjoy.
Peanut Butter Banana Wraps
I was lucky, there were no peanut allergies at the elementary school my kids attended. So I was able to pack their favourite – pinwheel peanut butter and banana wraps. A few years later, we were no longer allowed to bring peanuts to school so I substituted the peanut butter with flavoured Philadelphia Cream Cheese (usually chocolate or strawberry) and even tried other fruit, like apples.
DIY Pizza Bagel Recipe
Everything's better when they can do it themselves, and this one looks like lots of fun. Just wondering if the pizza sauce isn't a recipe for disaster.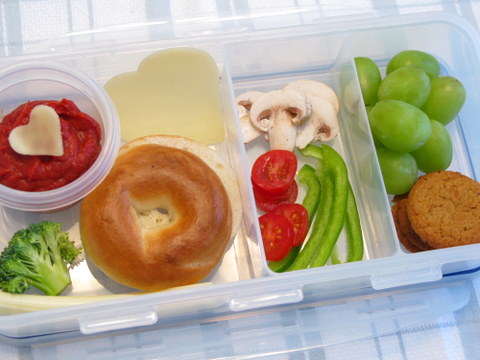 A stick of string cheese, pizza toppings, grapes, bagel, tomato sauce, and a couple of cookies makes for an inexpensive, and fun lunch.
Noodles For Lunch
Cold noodles were always a hit with my kids. Best part is, you can make the noodles the night before, so it's so easy in the morning. Here's a great recipe for Simple Sesame Noodles, add some snap peas for a lunchtime favourite.
Chicken Apple Salad recipe
Wow is this easy! A 5-ingredient recipe (if nut allergies, then 4 ingredient) add some crackers and I've got myself a lunch for the kids and for me! Add a bit of lemon to the apples to stop them from browning.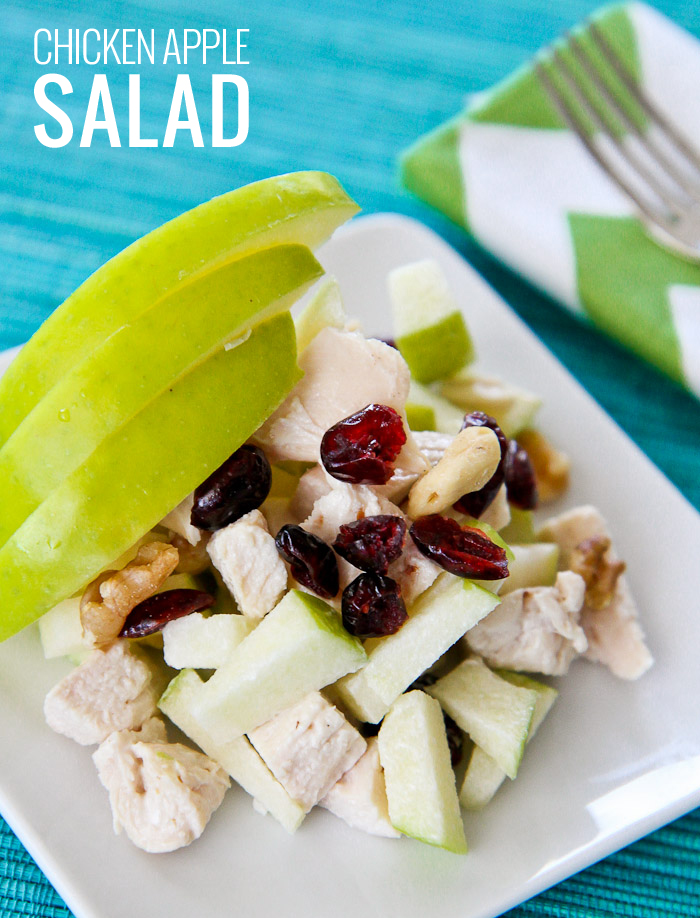 Nutella Waffle Sandwich Bites recipe
I never thought of using cold waffles before, but this gets a thumbs up, don't forget the yogurt for dipping. As long as the recent Hazelnut shortage doesn't hit us right in the Nutella, this will make a nice lunchtime surprise.
Ham & Cheese Sushi Rolls recipe
This is a crafty way to disguise the ham and cheese sandwich, wrap it around a pickle and they'll never know!
Fresh Fruit Infused Water recipe
Cut out small pieces of fruit and add it to a third full water bottle. Refrigerate overnight. Make sure to add a freezer pack to your kids lunchbag to keep the infused water fresh and cold!
Finally, here's a few tips to help with those lunches:
1. Frozen yogurt tubes work well for lunchbags with no freeze paks. They thaw in time for lunch and are still cool & tasty.
2. Pancakes or French Toast for lunch – spread a leftover pancake with peanut butter, or pack a bit of syrup in a small container.
3. Get creative with your breads – instead of using the same sliced bread for sandwiches try pita pockets, tortillas, English muffins, bagels or crackers.
4. Cut your wraps and sandwiches into bite-size pieces. Kids like it in small pieces. Note: if you're making lunch the night before, wait till morning to slice.
5. Pack a wet wipe for those sticky fingers.