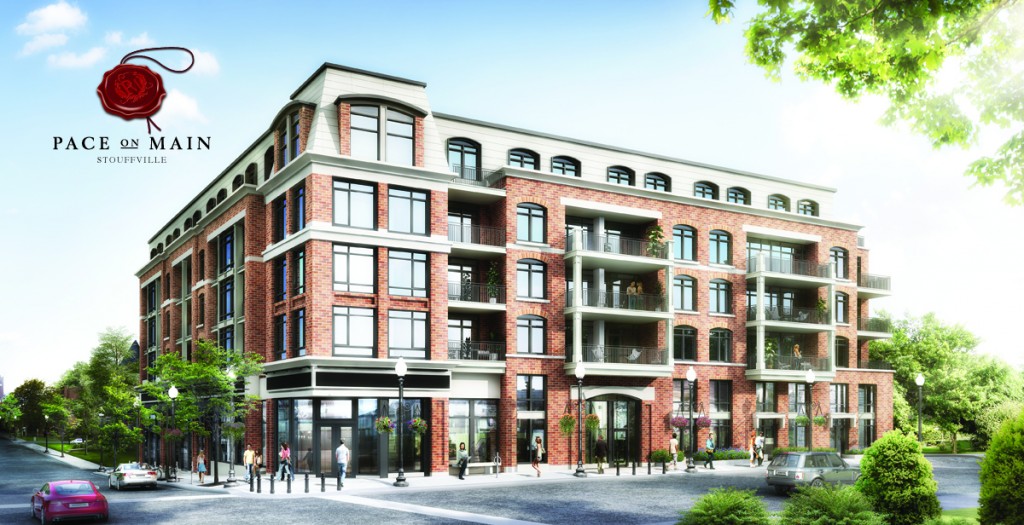 Picturing the life at Pace on Main just got a whole lot easier thanks to Geranium Homes' Preview Launch Event.  The response has been overwhelming, and it looks like everyone's excited about this condo project.  What's the buzz?  That this intimate collection of 67 boutique condominium residences in downtown Stouffville embodies the very essence of Main Street living.
Main Street State of Mind
Imagine the best of all possible worlds: the carefree condo lifestyle in an intimate five-storey building at Main and Lloyd Streets in downtown Stouffville – walking distance to an amazing array of amenities. A neighbourhood alive with galleries, theatre, restaurants, fitness, recreation and more … much more.  When distances are measured in steps to, not miles from, life is so convenient. But should downtown Toronto beckon — be it for work or play — GO Train access is seconds away.
Make Yourself Right At  Home 
Geranium Homes has assembled an outstanding portfolio of 30 suite designs including 13 individual penthouses. Meticulously envisioned and carefully planned, each floorplan boasts its own distinct personality. Available in configurations up to 1,517 square feet, suites offer modern, sophisticated features and finishes that showcase a truly luxurious lifestyle. All suites that make up the development are designed with comfortable living in mind.  According to Geranium Homes' Marketing Director Sue Webb Smith, "Anyone looking for apartment-style convenience will find they can live comfortably in suites measuring over 630 square feet with well-proportioned rooms. Pace on Main is capturing the interest of professionals, move-down buyers, retirees, and first-home buyers attracted to one of the 905's most desirable places to live with everything at the doorstep."  Bright spacious interiors with soaring 9-foot ceilings and gourmet kitchens with every convenience close at hand makes living Life at your Pace so desirable.
First Impressions
Nestled against one of Stouffville's most beautiful residential backdrops, Pace on Main's brick-and-stone façade will blend with existing heritage architecture. The Pace Credit Union, which now occupies the site, will operate in the ground floor of the new building, and additional commercial space will front onto Main Street. There are only 67 well- appointed suites at Pace on Main, and each includes one parking space, with all but one design having a balcony.
The building will feature a party room that leads to an outdoor terrace with barbeque area. Sue points out that, "Modest condo amenities enable us to keep the maintenance fees low, recognizing that residents will find all that they need within the broader community."
To register your interest for preview information click here or stop by our Sales Centre on Main Street and say hello to Lucy.  We're open Monday to Wednesday 1pm-6pm, Weekends & Holidays 11am-5pm, Thursday- Friday closed or by appointment.  It's time to enjoy Life at Your Own Pace!