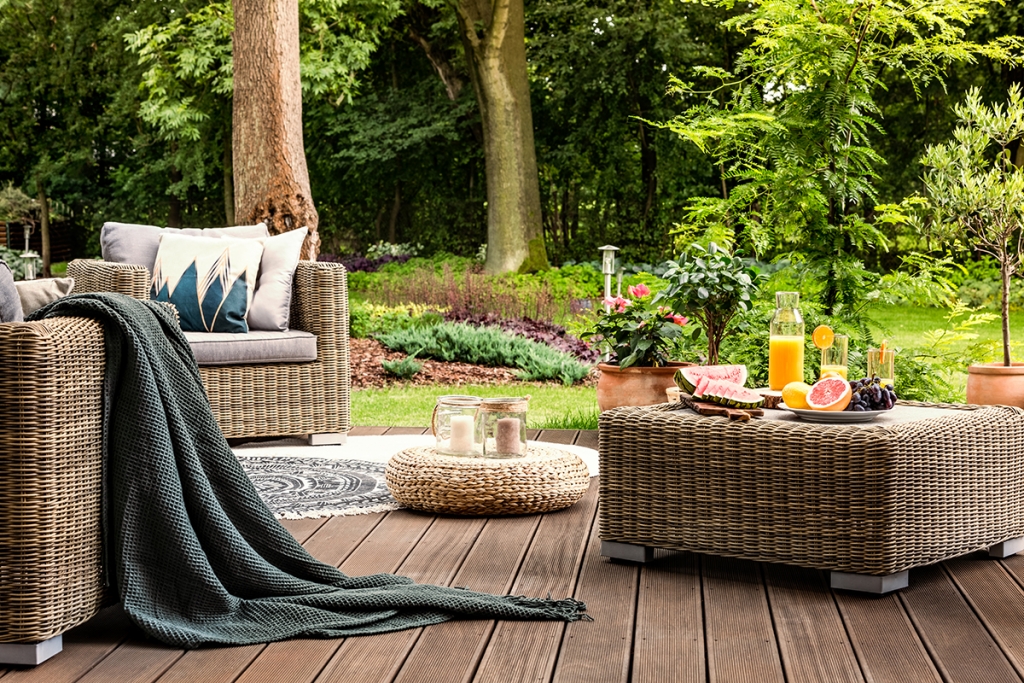 Summer is almost here, which means it is time to get back outside! If it is time to replace or update your patio furniture, we've compiled some tips to help you make the choice that's best for you, your lifestyle and your outdoor space.
Preparation- Measurements
Before shopping, take measurements of the area to know exactly the dimensions of your patio. Research different styles to find one you like that fits within your budget. By planning ahead you can use your area wisely and make use of the space effectively.
Do Your Homework
Most patio furniture is made of four basic materials: aluminum, wicker, wood, and plastic (or recycled plastic). Understanding the benefits and drawbacks of each material will ensure there are no surprises after your purchase.
Aluminum- Lightweight and durable, aluminum furniture can stand up to the elements. Be sure it's UV resistant, powder-coated aluminum, to protect it from the sun and elements over the years..
Wicker- A timeless look, great for sunroom and covered areas. It is best to add a coat of clear varnish, paint or a combination of the two to protect the wicker surface. Additionally, wicker furniture is best to be covered when not in use, to protect it from the sun.
Wood- Wood has a certain timeless appeal and is very durable. Remember not every wood is created equal; look for teak, eucalyptus or cedar for best, long lasting results.
Plastic – Lightweight, inexpensive and available in a variety of colours and styles. Furniture made from recycled plastic is gaining in popularity because of its durability and sustainability, in addition to its reduced environmental impact.
Test It Out
Probably most important of all is the comfort of your patio furniture. You're going to be laughing, eating, talking and spending a lot of your summer in these seats, so testing them out is a must.
Consider if the cushioning on each chair is removable or built-in. Removable cushions are easier to tear down when poor weather hits and clean when spills happen! Seating with built-in cushions need to be tarped or covered, to keep dry and long-lasting
Moving Your Furniture
Patio furniture needs to be portable. Consider something easy to set up each spring and tear down in the fall. You want your furniture to be sturdy enough to prevent it from moving in the wind, but not so heavy as to be a burden when storing it.
Additionally, think about where you plan on storing it during the winter. If you have to travel up or down stairs or a distance to put your furniture away, you'll want to make sure it is lightweight and easy to move.
If you're planning on leaving the furniture outside all year round, sturdiness and heft is important. Consider buying something that will withstand the weight of snow and the freezing and thawing of ice.
Keeping it Cool
If your outdoor space is in direct sunlight, you'll want to consider furniture that offers shade. Many patio tables come with an umbrella attachment. You can also take cover with a trendy sail shade, curtains or a partial pergola.
Additionally, another option is installing either a motorized awning off the side of your home, or a roof enclosing your patio area. Both will give some shelter during those super-hot summer days. Our homes at Allegro come with rear patio covered loggias for those summer days and nights.
Keep Colours Consistent
When deciding on the colour of your patio, you may want to keep consistent with your indoor theme. This adds a flow from your home to the patio. For example, if your decor in your home is monochromatic, consider adding complimentary pieces of creams and whites.
On the flip side, outdoor patio furniture is also your opportunity to add pops of bright colour you may not want in your home but add such fun to your outdoor space.
Here's to a summer spent with family, friends and patio drinks, and time to give new meaning to dining out.