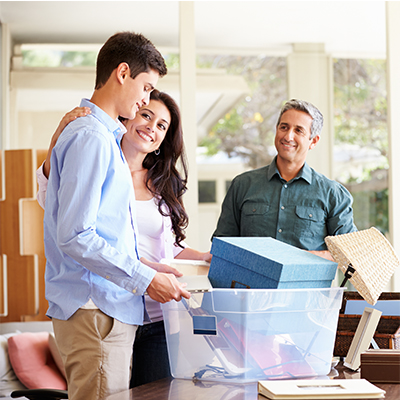 You probably remember it like it was yesterday, sending your oldest off to school on that big yellow school bus. But now it's your turn to drive them miles away to their new home away from home. As you prepare yourself for the inevitable waterworks, you'll also need to help your son or daughter get ready for an experience of a lifetime.
So we did some research, and talked to a few students returning to university, along with recent grads, and put together a parent's survival guide for sending your kids away to school.
Packing
As you prepare to send your college bound student on their way, things may seem overwhelming, make sure you remain calm. Everything that needs to get done will get done and anything you forget, will get done after Thanksgiving.
Here's a list of items that are key to helping your kid(s) ease into their first year:
Tech essentials (Laptop, printer, USB, HDMI cords)
Technology is one of the most important parts of going away to school. And often the computer used throughout high school won't stand the test of time in their post secondary education.  Nowadays students can use them in class to take notes, as reference in presentations, and many courses rely on laptops as part of their curriculum. But before making that purchase, take a look at the program your son or daughter has enrolled in and find out if there are any recommendations or preferred laptops.  Some programs use PC's, while others can be totally MAC based.
You may want also want to consider looking into a cell phone plan that will accommodate long distance phone calls and texting, especially if you're the one footing the bill. You will not regret looking into this prior to your child moving away from home, especially once you receive that $400 phone bill and look back thinking "we told you so".
Mementos from Home
This is one the kids will probably overlook. Sending with them away with a few tokens from home. Whether it's their favourite pillow or pictures of family & friends, it will make a world of difference when they are month into school and missing home. The Dorm Diaries offers cute decor ideas to make those dorm rooms feel like home.
Gift Vouchers for Groceries
This is the perfect incentive for your kids to spend money on what's important. By purchasing them gift cards for places like grocery stores or "healthy" fast food options it will also give you some peace of mind when it comes to worrying about what they're eating.  Take a look at grocery stores close to where they're staying, and pick up those gift cards.
Shower Caddy
If your son or daughter is staying in school residence (dorm), this is an absolute must.  A shared washroom with an entire floor of first years can be daunting, especially if you forgot to purchase shower shoes or flip-flops. A shower caddy can be a lifesaver. It easily helps transport all the essential shower items to and from the washroom/dorm room.
Added tip: Purchase an absorbent mat so the caddy can be stored in the room without getting the floor wet!
Netflix Account 
Let's be honest, your teenager will procrastinate and will spend time on the Internet so just let them indulge. Purchasing a fairly inexpensive account to Netflix is simply a kind gesture and will keep them happy when they're bored on a Friday night. Most rentals and dorms come with free Wi-Fi nowadays. However it's a good idea to check.
Comfort Food
It's crazy the little things that will remind your teenager of home. Make sure to pack a few of their favourite snacks, they'll come in handy at nighttime or when they're looking for a quick fix before class. Top suggestions form our student panel included Mr. Noodles packages and Kraft Dinner. Let the little kid in them shine. Dunkaroos, Peanut Butter and their favourite chocolaty granola bar will not disappoint either.  Be sure to add a few of their favourite recipes, the ones that are easy to make with minimal effort or ingredients.
First Aid Kit 
To a teen who's used to going to mom's medicine cabinet when they need a Band-Aid, the First Aid Kit is often overlooked.  Getting them equipped with Band-Aids, Polysporin, lip chap, Advil, even a Tide-to-Go will help them when they least expect it. Add a little note inside the kit, so when they do need to mend a cut, they'll know you're thinking about them. Here's a great Student Survival Guide  Emergency kit with tips on what to include.
Unpacking 
Once you arrive on campus, that's when your teenager's nerves will set it. Not the jittery nerves everyone gets when arriving at an unfamiliar place, but the ones where they worry if they'll make friends and if they can accomplish everything they want before graduation in a few years. This is the best time for them to unwind and meet new people so make sure they're open minded to the new faces they will be seeing.
Heading Home
As you're driving home, probably reminiscing about how your little boy or girl has grown too quickly we leave you with one simple reminder:  Don't worry if they don't call, text and or email right away. 
They will call you, but the first week with be very busy with introductions and learning where their classes are. Don't worry they will miss you and probably be excited to tell you about what they did during their first week. You know them best, so of course they'll share their experiences. We know it's hard, but just give them time and space.
Special thanks to our Panel of "Experts" for helping with our College Survival Blog!