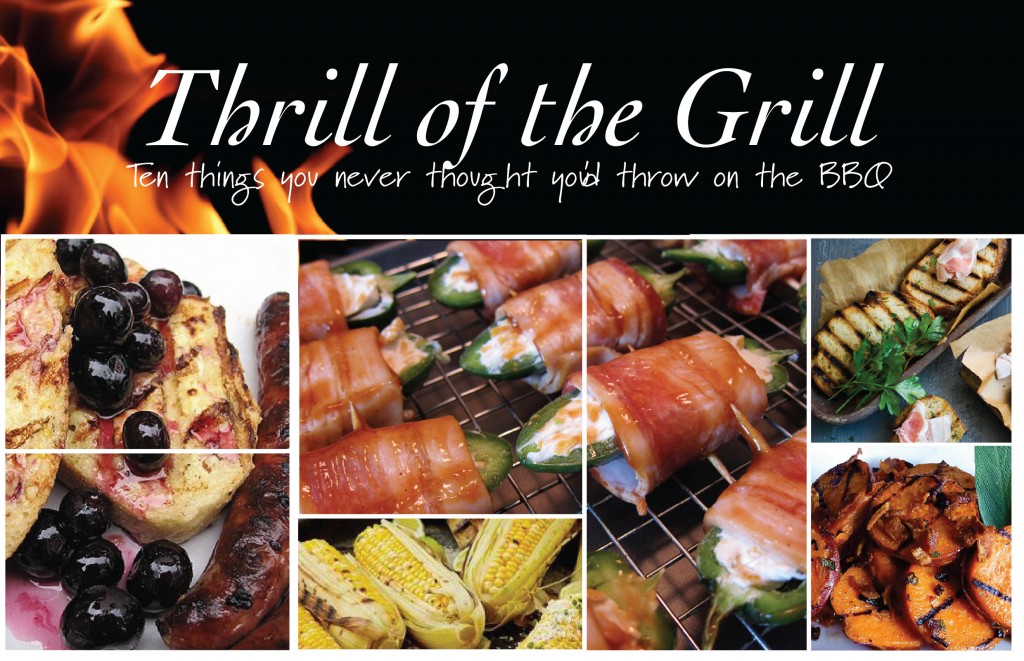 The Thrill of the Grill
Ten things you may have never thought of throwing on the barbeque.
If you're like most Canadians, the BBQ season lasts 12 months of the year.  So when summer finally hits, it's time to get creative. Veer away from the classic summer menu of hot dogs and hamburgers and celebrate summer with a twist.
Here are just a few different treats that you can serve with grill marks this summer.
Grilled Cheese
Even though the word "grill" is in its name, how often do you actually light the barbecue to make this easy, customizable meal? The Grillin' Fools Blog tests different cheeses and breads to create the perfect BBQ sandwich.
BBQ Pizza 
We were surprised at how many people do pizza on the BBQ and there are plenty of recipes to choose from. The key is to make sure the grill is good and hot.  Kitchen Daily has a tasty recipe for Pesto and Tomato Grilled Pizza.
Grilled Zucchini
Low-carb and gluten-free, zucchini is one of the tastiest vegetables you can throw on the grill. Whether you decide to serve them as a salad, throw some on your burger or just pick at them as a mid-afternoon snack, even the pickiest of eaters will be reaching for a second serving. Kalyns Kitchen offers tips on how to grill zucchini perfect every time.
BBQ Corn on the Cob
We prefer cooking our corn in the husk on the BBQ and soaking them in water before cooking makes all the difference. The Food Network offers alternatives by adding lime, habanero peppers, and even cheese to the mix.
Bread on the Grill
Take a beautiful crusty loaf of bread, slice it, brush with olive oil and a bit of garlic and it's a surefire hit.  There's really no need for a recipe but WhiteonRiceCouple does offer a step-by-step guide here.
Grilled Sweet Potato
Regardless of the season, Sweet Potatoes are a great option! We found this yummy recipe for Grilled Sweet Potato with Pancetta and Sage Vinaigrette Dressing on Cookin' Canuck. You can easily substitute bacon for the pancetta.
Speaking of bacon…
Bacon Wrapped Jalapeno Poppers
For those who like to live on the edge, combine cream cheese, fresh Jalapenos and slices of bacon for an appetizer that takes "hot off the grill" literally. Here' a great recipe that reminds you to wear gloves when handling the peppers.
Barbequed French Toast
Who says the BBQ is just for dinner? French toast on the grill is a tasty eye opener. This Breakfast on the Barbie recipe gains a smoky flavour that goes great with BBQ'd bacon or sausage!
Grilled Fruit
Grilling fruits can bring out caramelization and intense flavours in your fruit. And if you haven't tried grilling fruit before apples are a good place to start.
These Cinnamon Apple Slices with Honey Drizzle are so easy to do and absolutely delicious. This recipe calls for Honey Crisp Apples but I've used Granny Smith with great success. Just make sure they are hard and crispy.
Grilled Bananas with Maple Sauce
Once you've mastered the apples, get a little daring with this decadent recipe – Bananas with Buttered Maple Sauce and English Almond Toffee.  Thank you Food52 for this incredible dessert.
Summer has always been about freedom, even when it comes to the grill. These are just a few of the different things you can try on the BBQ, but the possibilities are endless. So change things up this summer, be different and give the neighbours something to talk about.
Fire up the barbecue, it's time to #CelebrateSummer. Don't forget to post your delectable BBQ creations to our #celebratesummer contest!