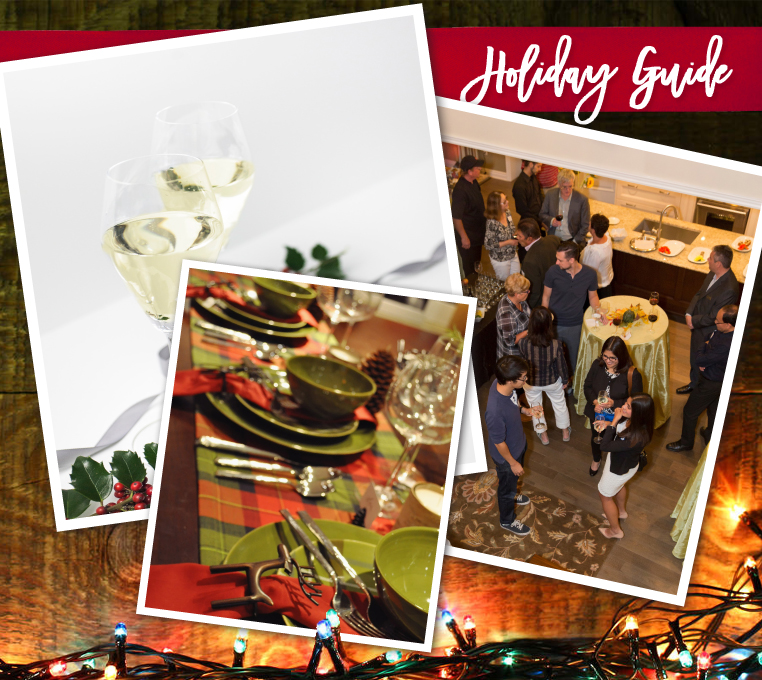 The holiday season has begun, with so much to and so little time to get it done,  don't let the party season catch you off guard. If you're planning to host your own shindig, here are a few last minute holiday entertaining tips that will help make your planning a piece of cake!
Pick your Party
Celebrate the holidays in a creative and fun way. Picking the type of party you're planning to host is important and will determine your colour scheme and decorations. Keep the guests entertained with a Christmas carol karaoke night, or fun gift exchange. Since you can only attend so many ugly sweater parties here are 10 holiday party themes you haven't thought of yet.
Once your theme is decided, it's time to start planning.
Spread the Word
Don't worry about the traditional, hardcopy style of invitation for special events, today's email invitations or "evites" are perfect for shorter timelines and smaller budgets. Sending a personal email or using Facebook page updates is a great way to engage online with guests and makes it easier for them to RSVP quickly.
Set the Mood
Whether its easy listening dinner music or simply background tunes, holiday music sets the tone of your party. Create a few playlists for the evening and have them ready to go before the party begins. While guests may not realize this subtle touch to your event, music can bring a sense of nostalgia during the holidays.
For some holiday inspiration check out the Holiday 100.
Plan a Buffet 
While you may enjoy plated dinners, for a holiday party a buffet style is the most accommodating way to serve your guests food. It allows guests a more interactive experience and gives them a chance to mingle with each other.
Opting for a buffet also allows you to set up your living space the night before and gives the guests the opportunity to pick and choose what they would prefer to eat. This also takes away the stress of an unexpected guest or two.
Party Favours
Party favours are always a fun touch for guests attending your holiday event. Keep this part of the evening simple as your friends will already be thankful for you hosting. Packaging a few holiday treats like candy canes or homemade cookies together can really be a nice treat at the end of a successful evening.
Celebrate your own Party
This seems like a no brainer but often when you're busy cooking and greeting guests you forget to enjoy your hard work. Don't stress about doing the dishes, leave that for the end of the evening. For occasions like this it is great to consider disposable plates and cutlery for an even quicker clean up.
Now sit back and enjoy! This event was planned to connect with friends, families and good neighbours, so relax and take time to soak it all in!
Happy Holidays from all of us at Geranium Homes!