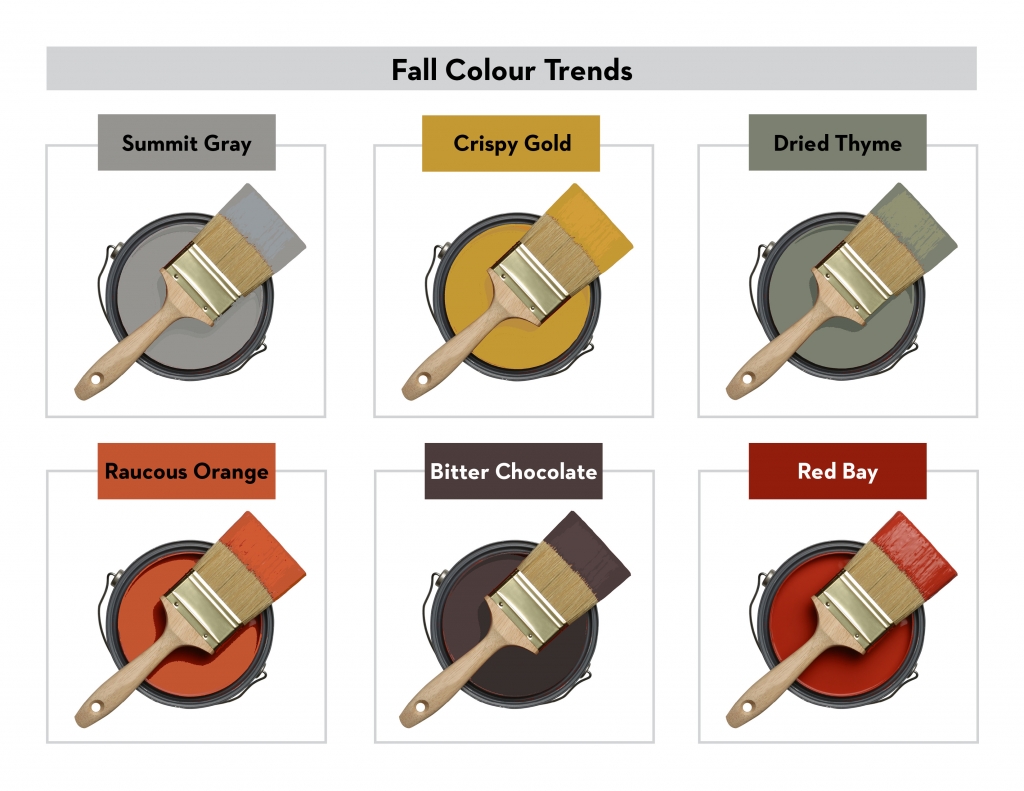 The changing colours of the leaves, red apples and earthy pumpkins, it's time for Autumn's colourful canvas to come to life! Take a cue from the most inspiring season, and bring those stunning fall colours inside by incorporating one of these six trending paint colours for fall that could work in any room of your home.
Shades of Gray
Grays are so versatile, no wonder they are one of the year's most trending colour. For fall, embrace the vibe of Summit Gray, a calm and soothing colour that reminds us to slow down and relax. It's the perfect fit in this guest bedroom at Geranium's Uptownes at Cardinal Point.
Golden Delicious
Savour the season with fall-inspired hues of gold like Crispy Gold, is a refreshing, plucky colour, as seen in this master bedroom at Uptownes. Be sure to ground this bold shade with neutral colours to provide a warm welcome visual break.
Thyme Time
Greens aren't just for spring and summer; more earthy hues of green always have their place in an autumn setting. The colour Dried Thyme gives this formal dining room a feeling of warmth and coziness, even when sweater weather is in the air.
Harvest Season
Orange reminds us of pumpkins, squash, and all things autumn! There's no better place to go bold than in this beautiful loft. Raucous Orange is a colour that energizes this room ands adds a unique and funky twist, the perfect colour for an accent wall.
Chocolate Indulgence
Don't let the name fool you; Bitter Chocolate is a deliciously rich brown colour that works well as an accent wall. We used it in this Great Room at Uptownes at Cardinal Point. It offers a gorgeous contrast to this light-filled space. A little shy about using such a bold colour? Here are some tips on how to decorate with dark, dramatic colours.
Rustic Reds
Take inspiration from the autumn leaves and add a splash of your favourite fall colour like Red Bay. Whether it's crimson upholstery fabric, merlot tinted home accessories or garnet-coloured carpets, reds will add a playful pop of colour in an otherwise neutral living space.
Embrace and enjoy this vibrant season throughout the months ahead by bringing the stunning array of colours of fall inside. An easy way to help make your home a warm, cozy and inviting space to welcome friends and family.