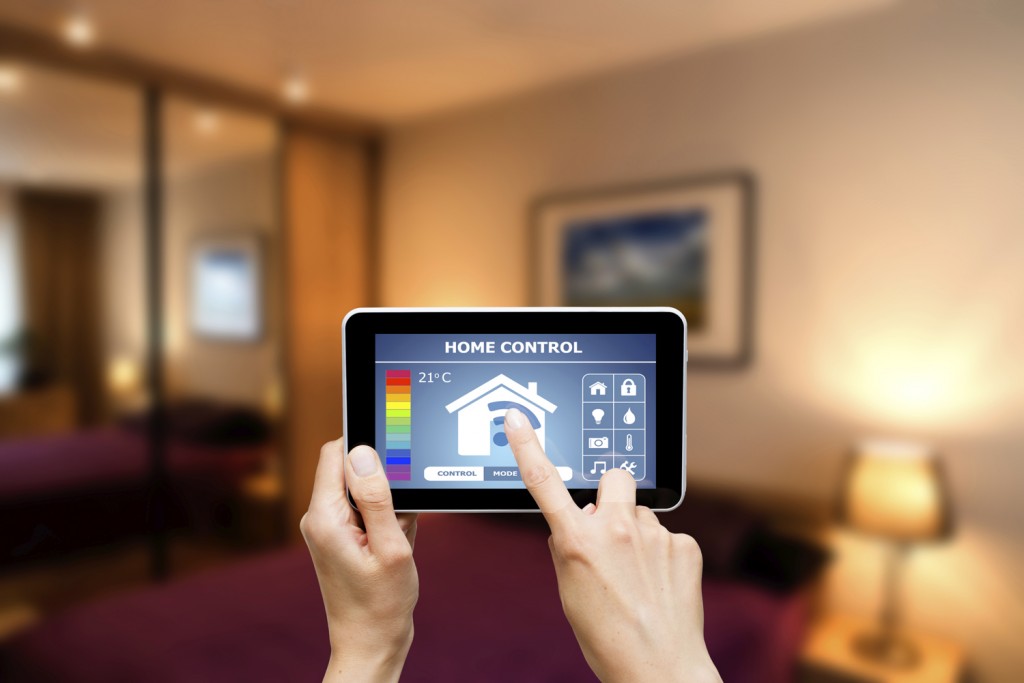 It's no surprise that innovative technology is one of the top home trends for 2016. Integrating technology into your home provides immediate control and access to lights, appliances, heating and security; with the ability to control these elements from your personal device. From basic to more elaborate gadgets, let's take a look at some of the smart technology you can integrate into your home.
Smart Thermostat
Smart homeowners know that installing a Smart Thermostat will save money and cut energy costs. What makes them so smart is that they learn from your behaviours and adjust your home accordingly.
The Nest Learning Thermostat adapts to your life as the seasons change as it takes note of your preferred temperature throughout the day and adjusts to your schedule. Users are then able to monitor the energy usage each month through a home report that explains how and when you use the most energy. It will also alert when your furnace is acting up or even your pipes getting to cold.
Home Security
It's easy to keep an eye on your home with the new security monitoring systems of today.   Technology allows you to remotely arm your home security from your smart phones, and can even notify users when people arrive or leave the home. Many home security devices, like Piper, are customizable and can monitor your home environment whether you're at home, away or on vacation, and allows users to check up on those you care for from a personal device.
Gardening
Like to garden? Now there's an app for that! Products like Edyn Garden Sensor give homeowners the ability to keep tabs on their gardens in real time!  According to Edyn.com, "the Sensor tracks light, humidity, temperature, soil nutrition, and moisture — and then cross-references this information with plant databases, soil science, and the weather to give you customized gardening guidance."  Fool proof gardening!
Eating Healthy
Keeping track of what you eat just got a whole lot easier with the Orange Chef Prep Pad.  It works with your smart phone or tablet to give you all the information about the food you're eating – a complete nutritional guide that gives you a breakdown of calories, fat, protein and carbs.
Pet Monitors
You've heard of the Nanny Cam but how about the Pet Cube, that streams video to your smart phone or tablet?  Perfect for the pet lover! PetChatz goes one step further and lets you communication with your pets, and monitor their actions with motion and sound detection!
Voice Activation
Helloivee is one of a number of products available to tie in all of your smart gadgets. Touted as a personal voice assistant, it connects to your home and to all your smart devices. This hands free assistant executes your voice commands – everything from turning down the heat to making dinner reservations.
Keeping It Simple
Want to start off small?  Incorporating simple smart technology updates to the home like wall outlets that transform into USB ports can help to eliminate bulky adapters and can even act as more accessible charging stations for all technology.
Gadgets that can communicate with each other are a trend that continues to influence technology users.  Smart devices allow homeowners to monitor behaviour changes and adjust accordingly. It also lets people be in touch with their home from their smart phone, whether it's through remote access or notifications and alerts.  These technologies can provide safer monitoring of their home, added control of appliances and remote convenience – all wonderful benefits, plus money saving practices that will help for years to come.
Looking for more home trends for 2016?  Check out our last blog on  Home Decor Trends for 2016!