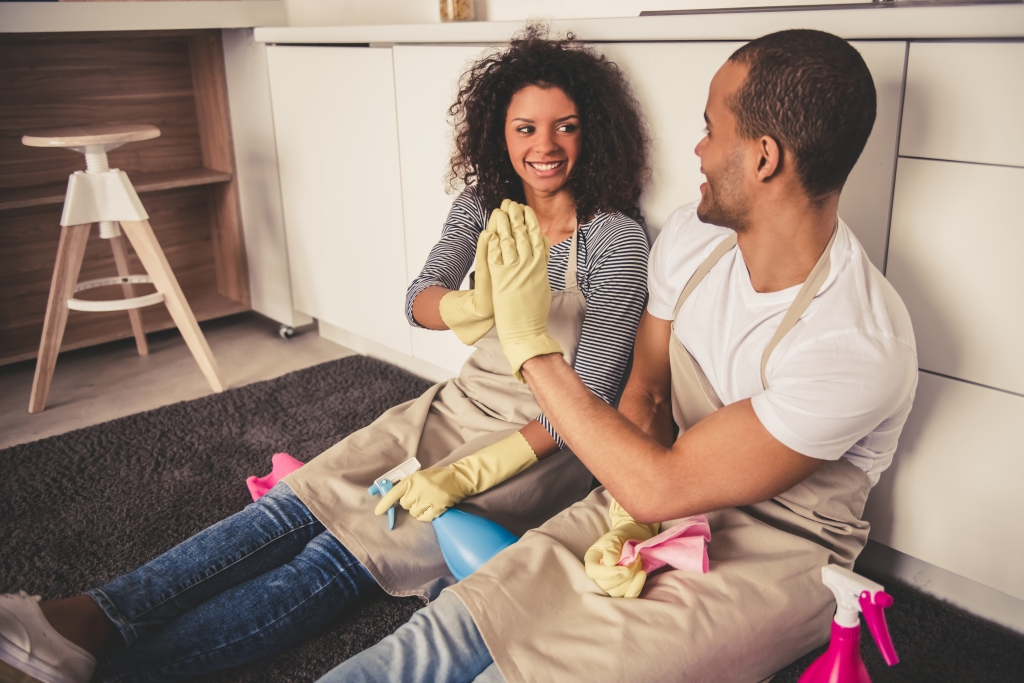 With the temperature dropping and the holidays approaching, now's the time to get your home ready for the busy months ahead. Our earlier blog posts offered tips for preparing your garden and tips for winterizing your home, but there are important things that need to be done indoors as well.
1. Safety First
Take this time to review your home's safety features. This includes replacing the batteries in your Smoke and CO Detectors, but don't stop there. Do you have a fire extinguisher? If you do make sure it's charged, and check for dents or corrosion. If you don't, then take the time to get one for every room in your home. Finally, check your fire escape plans, make sure exits aren't blocked and that everyone in the home knows what to do in case of fire.
2. Deep Clean Your Kitchen
Your kitchen is going to see a lot of action during the holidays. Keep your kitchen working well and looking great. Now's the time to tackle the tasks we've neglected all summer: degrease the range hood and filter, clean the oven, vacuum the refrigerator coils, clean the light fixtures, wash the walls, backsplash, garbage can and recycling bin and clean all of your small appliances. The Spruce Daily has some amazing tips to help get the job done. It's also a good time to replace floor protectors on your kitchen and dining room chairs to prevent any damage to your flooring.
3. Give Your Fireplace A Once Over
If you have a fireplace, make sure the damper opens and closes properly. During the daylight, check for any obstructions, you should be able to see daylight at the top of the chimney. Houselogic offers a complete guide to making sure your fireplace is safe and ready for the winter.
4. Fix Plumbing Issues
The holidays are the worst time to have a plumbing emergency. Before the start of the holidays, be sure to fix all of your plumbing issues like a slow drain or finicky toilet so you don't have to deal with unexpected and expensive repairs.
5. Check Windows
Add weather-stripping around frames of windows and doors to cut down on energy costs and keep your home warm. And don't forget the basement windows! Be sure to inspect your home's exterior and seal any small holes or gaps to avoid little critters from sneaking into your home.
6. Don't Let The Dust Settle
Baseboard heaters, grates and radiators are notorious dust collectors. Do a thorough vacuum of these areas. Be sure to take off any removable covers and vacuum beneath them. Also, check your dryer exhaust tube and vent for built-up lint or other debris. Double check that the exterior vent door closes correctly when not in use.

7. Tune Up Your Heating System
It's quite simple to do, check the condition of your furnace! This task needs to be done before the weather gets too cold, otherwise you'll be placed on a long list of people waiting for repairs on the coldest day of the year. Inspecting your furnace can provide great energy savings during the winter months. Now is the time to replace your filters, and to stock up for the coming months. Having a spare filter is always a smart idea.
8. See The Light
Dusting and cleaning ceiling mounted light fixtures makes for better energy efficiency and a brighter outlook! Cleaning can be quick and easy with these helpful tips. While you're up there, now's the time to reverse those ceiling fans. As hot air rises you'll want to make sure the heat isn't creating an updraft to the ceiling. By turning the fans to go clockwise in winter you'll keep the airflow circulating for that ideal room temperature.
While this checklist means a bit of work during your weekend, this will definitely pay off in the months ahead.