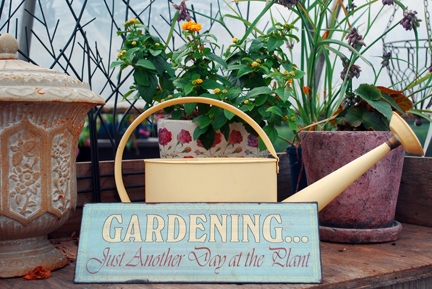 For many years, Sheridan Nurseries has been Geranium Homes' supplier of choice for beautiful outdoor planters as well as seasonal decor for our model homes and sales centres.
As we finally welcome the warmer spring weather, we spoke with Brenda Luckhardt, business-to-business marketing and development manager for Sheridan, about landscape planning suggestions for the first residents of a house.
"Any time is a good time to start your garden."
"New home owners are fortunate to have a blank slate to work with," Luckhardt explains, "creating a landscape plan can save both money and time in the long run, as plants purchased will be chosen to thrive in a specific location. The garden can be phased as your budget permits."
Of course, a design should ensure the garden will look good in all seasons.
It's always a good idea to consider some of the up and coming trends being incorporated into landscaping. Patios, decks and other sitting areas accented with outdoor art such as sculptures, statues, mirrors and rain chains are among those. The inclusion of a variety of native plants for their hardiness and lower maintenance, as well as their all season performance, are also an excellent choice.
Each year Geranium Homes hosts a Neighbourhoods in Bloom gardening event to assist new Cardinal Point homeowners with getting their gardens and landscaping plans going.
If you've never owned a home with a garden before, you might not have the tools you'll need to get you started. Luckhardt recommends investing in tools of the highest quality, even if it means buying fewer at first. "At a minimum, a new gardener should start out with a sharp digging spade, a fan rake, a garden fork, a hand trowel and a pair of bypass secateurs," says Luckhardt.
And, don't forget a couple of good pairs of gloves!