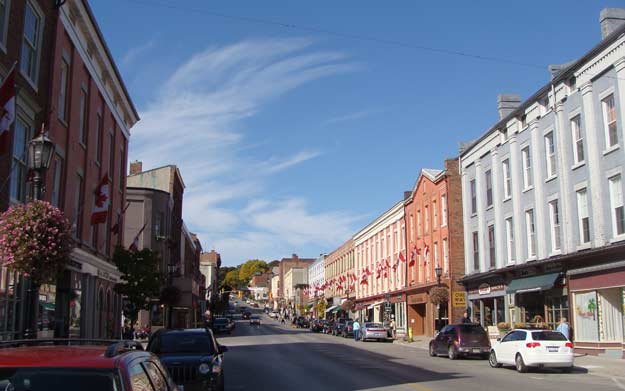 Take a walk through downtown Port Hope and it's easy to see why this charming town is so popular with residents and visitors, and continues to garner awards and recognition.
Port Hope is a heritage community located at the mouth of the Ganaraska River on the north shore of Lake Ontario.   Just south of Highway 401, with easy access to VIA Rail Canada, Port Hope is the perfect place for an overnight escape from the city. The town is home to many B&B's and of course an array of large shopping centres and local attractions.
As a matter of fact, renowned travel writer Robin Esrock of The Great Canadian Bucket List Blog names Port Hope the Best Small Town In Ontario.
Esrock sited Port Hope's heritage main street, Capitol Theatre and annual Float Your Fanny Down the Ganny celebration were just one of the many reasons why Port Hope was chosen for this prestigious title for Ontario.
This isn't the first time Port Hope has been featured on a list of important accolades.
In 2014 Cottage Life magazine named Port Hope one of the best small towns to visit, highlighting the town as "the perfect backdrop for a day of treasure hunting."
While Port Hope continues to flourish as a popular location for living and leisure, the downtown core strives on the success of its heritage, culture and endless attractions.
Named Best Preserved Main Street by TVO. Port Hope's downtown beckons dozens of boutique shops, antique galleries, restaurants and cafes, a wonderfully restored turn-of-the-century theatre and a hugely popular Farmers' Market.
As a whole, Port Hope excels by embracing and celebrating its small town character, so it's no wonder why Port Hope continues to gain recognition on a national level.
Declared Best Destination by Readers Digest, Port Hope's historic buildings and community activities make this town a great place for families and people of all ages. This community thrives on the people, who make this town great.
This picturesque town is also favourite with photographers, thanks to the Town of Port Hope, Bill Badzo  and Steve M for such beautiful photos.
What's Port Hope's Secret?
Port Hope incorporates the best of the past, but with a vision for the future. It is the kind of small town in Ontario that you look back on with fond memories and appreciate its quaint villages, beautiful scenery, antiquing opportunities and endless outdoor pursuits.
Everyone wants to live in a community that they can be proud of. No matter how many people live there, or how geographically large a city is, one factor stands above the rest: community.
Those who live here already know – Port Hope is a great place to call home!
The Verandas in Port Hope is a welcome renewal of the traditional neighbourhood as it embraces the best of the past, with a vision for the future.  There are only a few homes left for sale of this collection of outstanding bungalow residences by Geranium Homes.