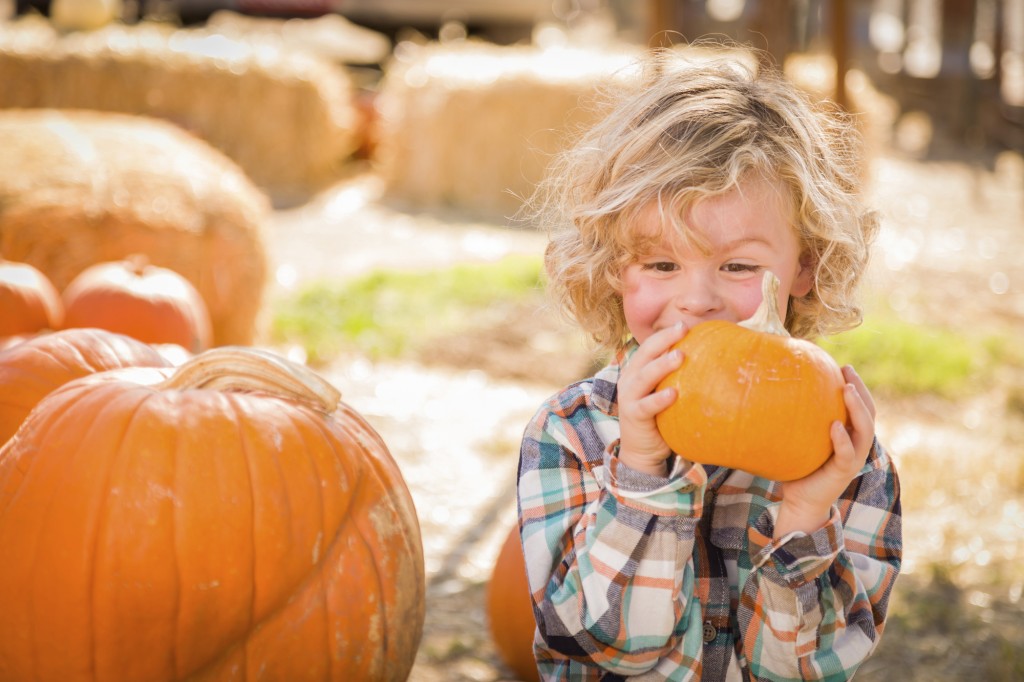 Move over Charlie Brown, the time has come for families to embark on the search for the "Great Pumpkin".  As the weather turns crisp, thoughts of hayrides and harvest fill the air and families look forward to that local pumpkin patch excursion. Whether your goal is to "squash" the competition and find the largest pumpkin on the patch or simply decorate the home with gourd-geous gourds it's your time to face this Fall tradition.  And there's no better place to find all this and support your local farmers, than at neighbourhood pumpkin patch or market.
That's why we've harvested some great tips for your family for picking pumpkins.
Dress for Success
When you're planning a trip to the Pumpkin Patch it's important to dress appropriately. A seasonal scarf, jeans, and of course anything flannel, is the perfect attire for this excursion. Boots and outdoor shoes are very important as pumpkins grow on the ground therefore the ground could be quite muddy and wet depending on the weather.  Why not treat yourself to a pumpkin spice latte for the trip?
Side note: If you're capturing your visit on camera, make sure not to dress the kids in bold patterns or the colour orange as they shouldn't blend into the background but rather contrast with the pumpkin patch decor.
Finding the Perfect Pumpkin
Pumpkins should be fully mature when picked.  We found some great tips for choosing the perfect pumpkin: look for firm pumpkins, watch out for soft spots and dark bruises,  and always avoid picking up the pumpkin from the stem. Even the smallest nick could lead to an infection, and the goal should be to pick a long-lasting pumpkin. Don't worry about those dents, blemishes or odd shapes, they add to the character. Just be sure that the pumpkin can stand up without falling over.  When it comes to Jack-O-Lanterns delay the decay,  if possible pick your pumpkin straight from the vine as it will give you a longer lasting pumpkin as it sits on your porch.
Preserve Those Pumpkins
While you might already be in full swing with your Fall decorating it's important to make those pumpkins and gourds last throughout the month. On average a pumpkin should last 3-4 weeks if you follow a simple pumpkin cleaning recipe. Here's a great tip for extending the life of your pumpkins.
Storage
Make sure you store your pumpkin in a dry and cool space.  If you're planning on keeping it long term don't store it on concrete, as it will cause early bruising.  However, if concrete is your only option, make sure its sitting on top of a layer of cardboard. Following these steps will prolong the colour and quality of the pumpkin, which is important whether you're planning on carving it for Halloween or cooking it for a later date.
Make Memories
Going to the pumpkin patch is a perfect opportunity to make memories with your family. Each patch provides a unique experience. Often times you'll find animal petting areas, picnic spots, corn mazes, tractor rides for the kids and more. So whether there is a carving station, face painting or a place to decorate your pumpkins, there really is something fun for the entire family. While you're making memories with the family to capture your visit.  Supporting your local farmers and markets is also important.  Here's a list of the top pumpkin patches close to Stouffville and within the GTA .
Carving & Decorating
Looking for unique ideas on decorating your pumpkin? Check out our blog to create pumpkins with personality!