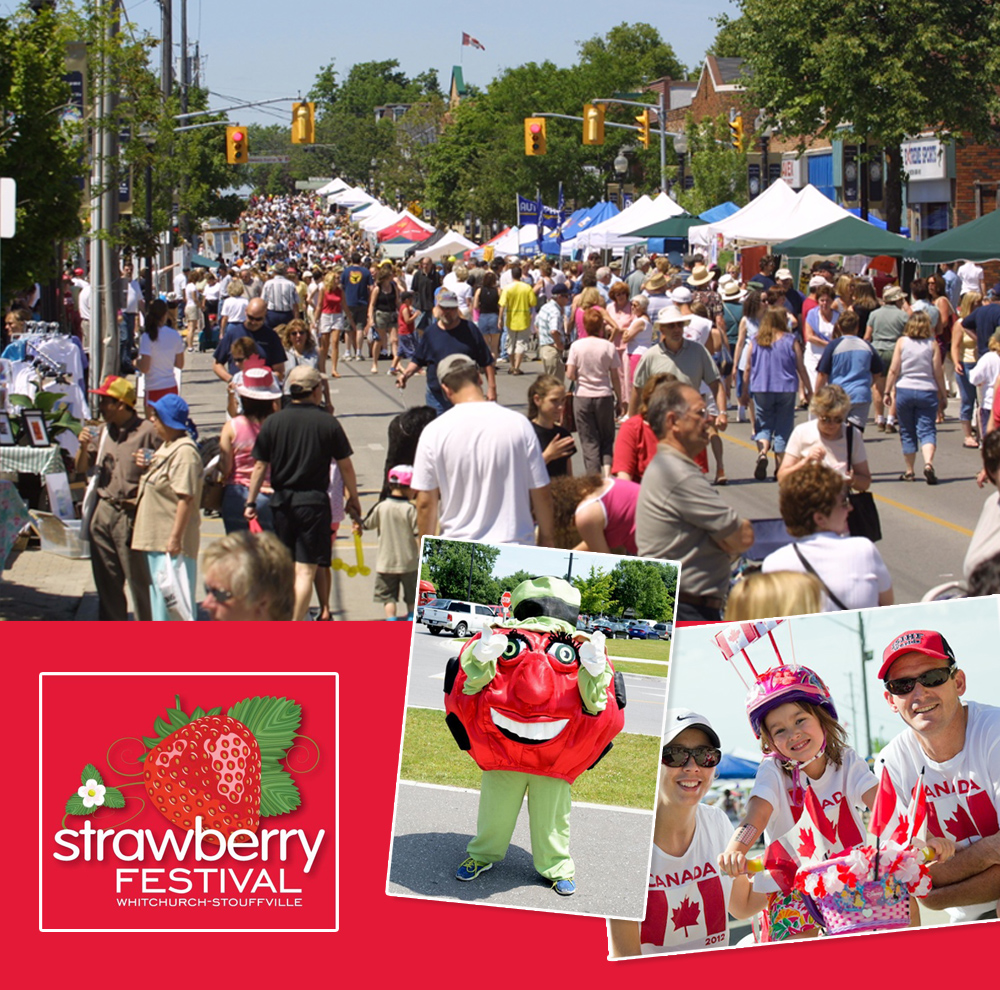 One of the best parts about a hometown is coming back for that one celebration; the "Big" event every town seems to have when the entire community gets together. In Stouffville, that event happens every Canada Day Long Weekend.  That's when Memorial Park attracts residents young and old to celebrate the Stouffville Strawberry Festival.
Don't let the name fool you, the Stouffville Strawberry Festival has become a much-anticipated annual event; thanks to community spirit and the dedication of hard working volunteers.  It's a time to celebrate the region's favourite fruit in the swing of strawberry season with a ton of fun events, musical performances, and of course delicious treats featuring locally grown strawberries.
The Strawberry Festival started in 1984, when the town's Canada Day celebrations and annual baseball tournament were paired together. Since then, it's become the second largest attraction in the York Region where over 25,000 people come to Stouffville each year to celebrate.
Since 1984, the festival has steadily grown year after year, and has added new great events that can be enjoyed by everyone.
This year everyone's favourite events are back. You can expect to see the Lions Beef BBQ and the Red Berry Cafe, carnival rides and games, the Dog Contest, Zorba Balls, the Rubber Ducky Races, the Festival Market and great musical acts all weekend long, and of course the main attraction;  the Canada Day Fireworks show which lights up the sky just after dusk on Friday July 1st.
Can't miss shows for the 2016 festival include Isabella Hoops, an incredible circus performer, Edward the Great, a professional juggler, and the Craz-E-Crew Stunt Team, an interactive stunt show. You'll be astounded!
Around 300 artisan, crafters, merchants and food vendors will be set up along Main Street and Park Drive July 1st and 2nd for visitors to browse and enjoy!
The Stouffville Strawberry Festival is the perfect way to celebrate the beginning of summer, the local agriculture, the Stouffville community, and of course, strawberries!
The festival runs from June 30 – July 3, 2016 at Memorial Park in Stouffville. For more information on the festival, schedule, and musical acts visit strawberryfestival.ca.