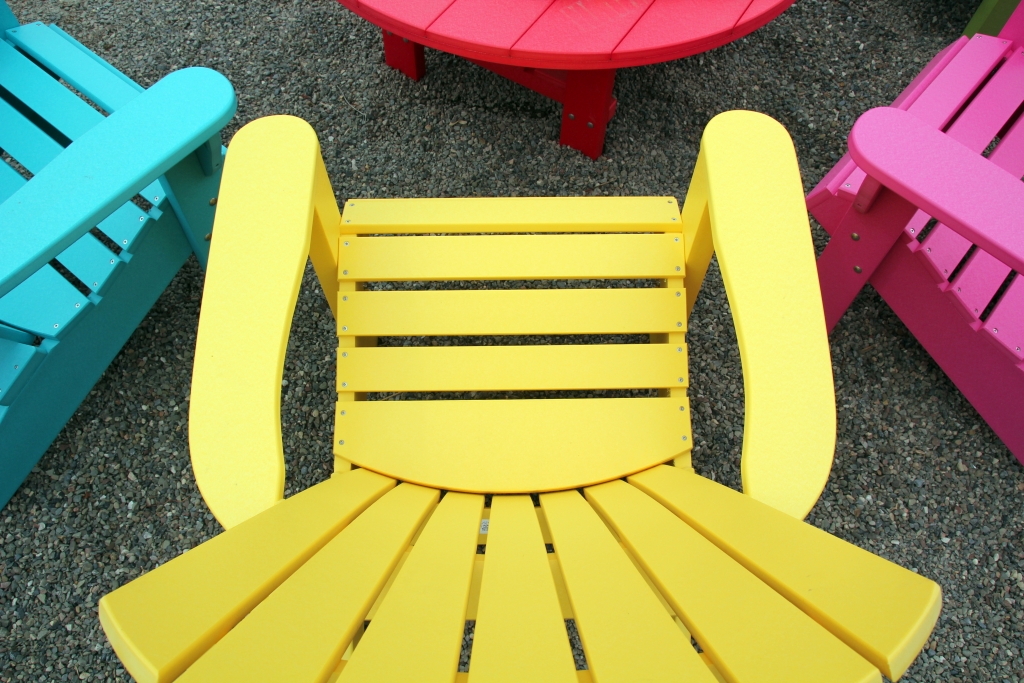 With the summer season finally in sight, it's time to shift focus to the backyard.  That area of your home long forgotten over the harsh winter, but happily rediscovered as the sun starts to shine and the days get longer.  Try these ideas to turn your backyard into the perfect summer getaway.
1. Outdoor Games
Put a twist on family game night by taking it outside. Try building your own backyard bowling lane. This fun project can be completed in a day and will be enjoyed all summer long.  Bowling not your thing?  Take another classic games outside like Giant Jenga or Backyard Scrabble!
2. Change up Your Chairs
Add a pop to your outdoor decor by changing up your chairs. Give your old metal folding chairs a facelift, simply with a couple coats of spray paint. They're perfect for entertaining outdoors and will leave your guests asking where you got them. If you're looking for a more classic look for your backyard, a set of Muskoka chairs never fails to please.
3. Tiki Torches
There are so many tiki torch styles available at your local hardware store, or you can brighten your backyard using things you already have in your home. Turn your old wine  or mason jars into useful backyard torches. These clever torches bring style and functionality to your outdoor space and can help keep the bugs away!
4. The Quintessential Hammock 
Feel like hanging out this summer?  Then a hammock should be on your "must-have" list, they've come a long way over the years.  Whether you prefer the traditional tree-hung hammock or a backyard hanging bed, we found 20 hammock alternatives to inspire you to put your feet up!
5. Thyme for a Garden
Sometimes you just don't have room, or time, to have a full-blown garden.  Make the most out of your space with vertical, hanging or tiered garden planters, you may even think of building a living fence. It's the ideal opportunity to enjoy flowers, herbs or even vegetables in the smallest of spaces.
6. Making a Splash
The summer can sure get hot, and it's great to be able to cool down on hot days. You don't need to go to a waterpark to have fun, try some of these fun ideas to keep the kids cool and laughing this summer. Consider installing an outdoor shower. It's a great way to rinse off after a dip in the pool or a long session in the garden. Best of all, it feels like you're at a spa in your own backyard. Or maybe just an outdoor water fountain to relax with the sound of water.  Bob Vila has some great DIY water fountains for every size backyard.
7. Light My Fire 
There's something about sitting around a fire on a warm summer night.  Whether it's a firepit you can make yourself or simply a fire bowl for smaller areas, this is always a welcome addition to a backyard get together. Just don't forget the s'mores. (Check your local fire code bylaws first.)
It doesn't matter if you have a large backyard, a rooftop terrace or your private balcony – summer's here.  Let's get out and enjoy!