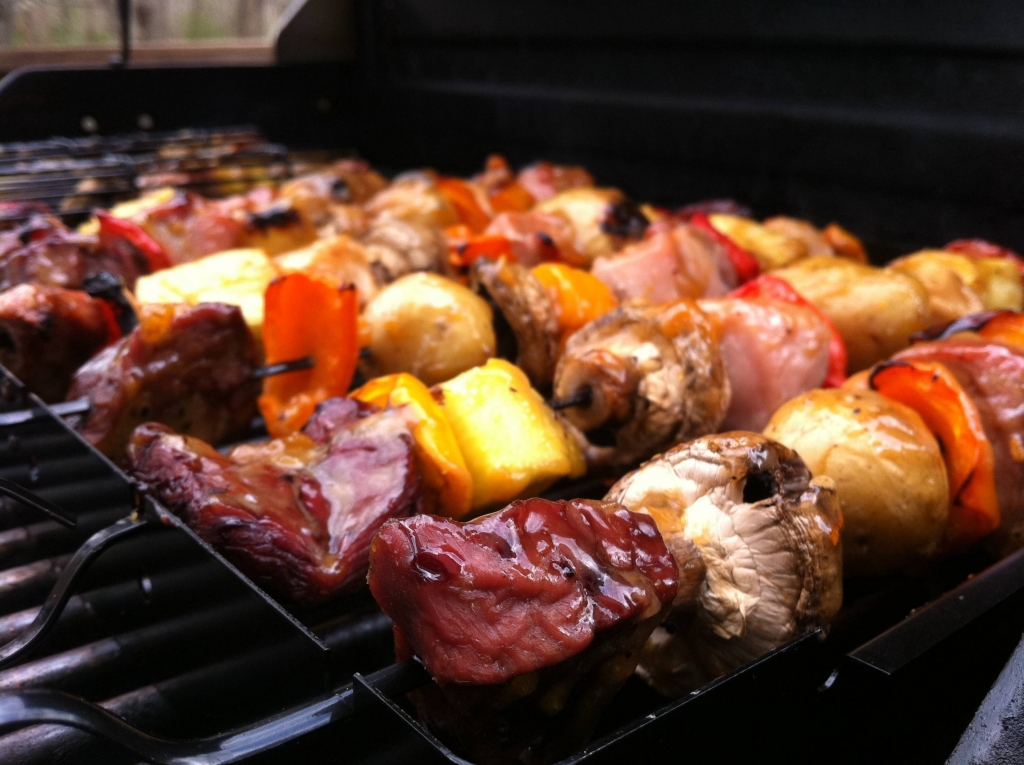 Father's Day is coming up and let's face it – the best way to treat dad is to let him do his own thing … and then drive him crazy with attention.
For many dads, barbequing is his thing. But every year, dads everywhere (reluctantly) hand over the BBQ tongs and let someone else take the reins.
Which brings me to my barbeque specialty: The Shish Kebab, it's hard not to love meat on a stick! Easy to make ahead of time, easy to customize for special requests and easy to grill – once you've got the basics down.
Here are a few tips that will lead to "Kebab Kudos" from everyone.
The Meat
Originally this was a Turkish dish of marinated lamb ("shish kebab" is Turkish for "grilled meat on skewers") but now we skewer everything from tofu to chicken.
Me? I stick to beef – sirloin to be exact, either tenderloin or filet. But bacon, chicken, just about any type of meat that's your favourite will work. Just be sure it's cooked thoroughly especially when dealing with chicken or pork.
To ensure that the kebab meat doesn't cook too quickly, or get shriveled up, cut the meat into at least one inch to 1½ inch thick cubes.
The Skewers
Square or flat metal skewers will hold food more securely, but wooden skewers will work just fine.
When using wood (bamboo) skewer sticks soak them in water for at least 30 minutes prior to making the kebabs. That way they won't catch fire on your grill and burn. Putting a little tin foil on the exposed ends before grilling is also a good idea. A great tip I found from the Carlo on the PaperBlog "When you're in a hurry (And who isn't these days?), soak the entire package of skewers at one time, Afterwards drain the water, and freeze them. Then when you want to use them, pull out the exact amount that you'll need."
To avoid the meat and vegetables sticking to the skewer when ready to eat, try spraying them with cooking spray. You may also want to use double skewers per kebab; they keep the food in place and works to ensure even cooking.
Preparing the Kebab
You can skewer and grill your entire meal – from meats and vegetables to fruits, even breads and desserts.
I like to use mushrooms, peppers and onions for flavour, always adding pineapple for the kids. Think of colour when choosing what to add, (a selection of green, red, yellow looks really appetizing.) Just be sure to fill skewers with uniformly sized pieces. Also don't overload the skewer, and make sure you leave a little space between the pieces so that the heat circulates evenly.
The Marinade
A tangy marinade will give any food delicious flavor, and it's perfect for shish kebabs. Remember that it doesn't take long for the marinade to flavour and tenderize the meat because your pieces are smaller than a regular cut of meat; an hour or two is sufficient. Letting the meat marinate too long in a marinade with vinegar or lemon juice can result in tough or mushy meat. Here's the marinade recipe I like to use.
The Grill
The main secret to meat and vegetable kebabs is to grill them over direct medium-high heat. The higher heat will sear the meat and lock in juices. They don't take very long, so keep your eye on them. If your meat pieces are larger and you want them more well-done, move the kebabs to indirect heat to avoid charring.
The Finishing Touch
Serve it with wild rice, pasta or my favourite – rice salad and tadah! A meal fit for a king!
Happy Fathers Day!