Geranium Homes has taken their Uptownes model homes one step further, by bringing an interactive element to the mix.
In Person
The model homes at Uptownes are a grand source of decor ideas, bringing to life the shared vision of Geranium Homes and acclaimed interior designer Jo-Ann Capelaci.  And now we've found a fun, interactive way for you to bring these design ideas home!
Now you can tour these homes in person with your own Walk-Through Book that explains every design detail.   It's a peek into the wonderful design world of what if as you touch, see and feel your way through these exceptional townhome residences.
Through Video
Want to see what all the fuss is about before coming to Stouffville?   Take a tour of our Uptownes on-line with detailed videos, where Jo-Ann personally takes you through each room of these loft-inspired townes.
Pinteresting
And now, for the twist. Geranium, along with designer Jo-Anne Capelaci, show you how to create the "model home look' in your home.  By explaining the design process and posting all the design elements on our Pinterest page.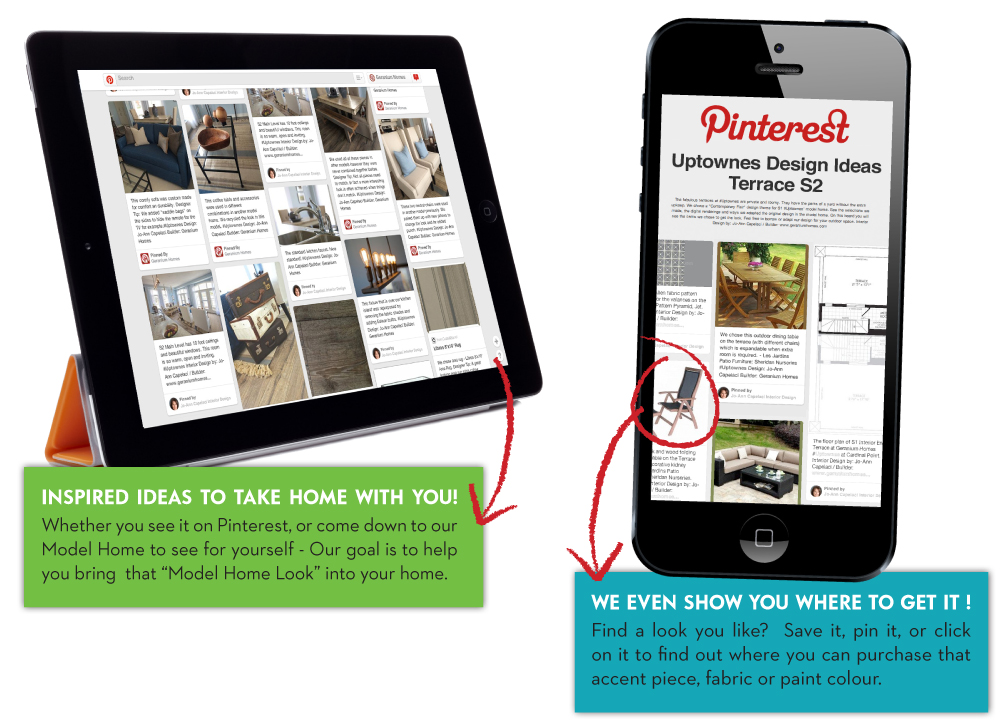 Inspired ideas from our home to yours
Simply go to our Pinterest page and look for our Uptownes collection.  There you'll find all the colours, fabrics, accents and ideas that Jo-Ann used to create these inspired designs, along with links to where you get them! Find a look you like?  Save it, pin it, or click on it to find out where you can purchase that accent piece, fabric or paint colour.
Whether you see it on Pinterest, or come down to our designer decorated Model Home to see for yourself –  you'll find have inspired ideas to take home with you.
Uptownes at Cardinal Point is located on Millard Street, in Stouffville East of Hwy 48, one block north of Main Street/Stouffville Road.  Visit our website for sales centre hours and details.